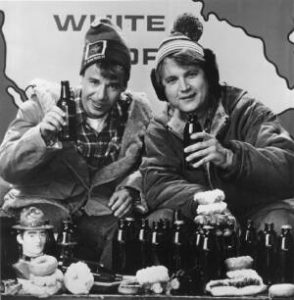 Even though it is just the 17th of May, this weekend is nicknamed May Two-Four. It is Canada's non-much-observed celebration of the lass who was Queen Victoria. Monday is still called Victoria Day. It also has a quiet subtext of somehow being the celebration of the present Queen's birthday. If those are the dimming antecedents, the once glowing purposes of the day – they are doubly wrong. Our current absentee monarch was born on an April 21st. Vicky was born in May 24th but, as you may note, that is not today's date.
And yet this is the weekend of May Two-Four. Not next weekend which contains the twenty-fourth day of May. This one. Why? Because a two-four is the name of a cardboard case of 24 bottles of beer. Twenty-four 12 ounce bottles is that unit that is beyond personal consumption. It implies either sharing or duration. A long warm weekend is apt for both. And gardening and fireworks. Because we have no real remaining cultural focus on this long weekend, unlike any other long Canadian weekend, we are now free to create our own. So we think about drink in itself. We just enjoy ourselves.
It was not always so. In the course of co-writing one book on the history of beer in Ontario and another on Albany, I have written about three drink laced celebrations of the Monarch's birthday in 1755, 1776 and 1828. As I mentioned the other week, Sir William Johnson supplied the Royal loyal allies of the monarchy, the Mohawk nation of central New York, with beer during the Seven Years War – aka the French and Indian War. One of those deliveries, as noted at page 572, was on June 4, 1755 when he obtained two barrels of beer from Hendrik Fry for the Mohawk at Conajoharee to drink to toast the birthday of George III. As I wrote a year ago, Craig and I located the scene of the drunken tavern brawl 21 years later in Albany which finally ripped that city's Tories and Patriots apart triggered by overly vigorous toasting to the King. Perhaps my favorite Royal birthday celebration in British North American happened about half a century later. As you will see in Ontario Beer, at a celebration of the King George IV's birthday hosted by the Canada Company on 12 August 1828, 200 settlers gathered at what is now Guelph when it was at the point where the forest met the clearing of fields. A whole ox was roasted held over the fire with logging chains. As there were few utensils, most of it was eat off of wooden shingle plates with a stick for a fork. After the eating was done:
…toasts were drunk to everybody and every conceivable thing, the liquors of all imaginable descriptions being passed round in buckets from which each man helped himself by means of tin cups…
It is recorded that many were found the next morning reposing on the ground in the marketplace "in loving proximity to the liquor pails."
Now, I am not suggesting we take our Canadian admiration of the Crown to that point. But… it is a proud tradition. It brought together peoples as loyal allies, insulted our treacherous enemies and celebrated the new frontier in our new homeland. If I had my druthers, that would be what we celebrate today. Not so much the Crown or a particular monarch but the loyal pioneers who defended the cause and created the nation. And drank like idiots as they did and because they did. Because we are like that.