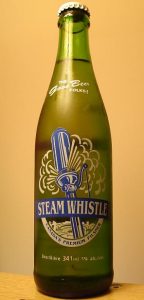 Every once in a while I have a lager and then I remember that I don't like lagers much. You may have noticed this in the reviews set out here. But I have been meaning to try Steam Whistle for sometime to make sure I am not missing something good and local.
Good thing as this is my kind of lager. It pours a medium straw and fades to a white rim. While the body is quite watery – without being thin – there are lots of grainy malt as in a quality pale ale but it is a notch sweeter and rounder. That roundness is accentuated by a creamy lager malt strain with a concession to the style in the metallic hops that cut the cloy. But the hop additions come from a measured hand and there is a freshness to them that compliments the sweet malt rather than fights it. This is the one beer the brewery brews and it is quite worthy.
It would be interesting to see what these folks could do with a pale ale. Oddly – the BAers are brutal with over one third saying no way.