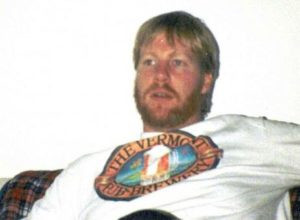 Very sad news this morning of the passing of Greg Noonan, founder of the Vermont Pub and Brewery as well as author of a number of important books on brewing. There is a thread of condolences over at BeerAdvocate with many sharing their memories of him.
Seven Barrel Brewery Brewer's Handbook constantly during my former glory-ish days of home brewing. The idea of having one book showing the same recipe for extract, part mash and full mash implied a lot. It said that it was worth getting started and trying to excel. It also told me that it was a very reasonable goal to try and brew dozens and dozens of beer on your path. There was something of the tone of a patient teacher in that book as well as in his other book on my shelf, Scotch Ale, that set them apart and fit right in with the memories people are sharing today.
But it were my trips to the Vermont Pub and Brewery that I immediately recalled on hearing of his death. Almost two decades ago now, a pal of mine and I went on a tear of a road trip starting out in Ottawa, looping into NY state and ending up at the VPB on a Saturday night, trying whatever they had on tap. It was the summer of 1990 back when the beard was still red, the shirts not so tight. We were blown away by the way his place showed the range of possibilities after years of accepting what the Canadian market gave you – not to mention the realization that you could just have a small palace to the honour of good beer, good pub food and enjoying company in the corner of any town… your town, too. For the years since, it's been a regular stop on the family's trips from Ontario back to the east Coast. Think I will pull out that old VPB crow t-shirt today (if it still fits) and find me a Vermont beer no doubt born out of his great example and inspiration.