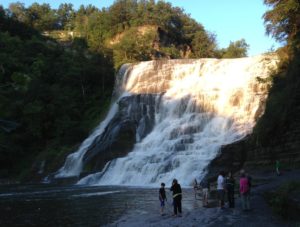 Oh dear.
Toho Co., Ltd. is responsible for crafting the giant monster's original cinematic adventure back in 1954. The creature's enemy, the robotic Mechagodzilla, was brought to life in 1974. Not surprisingly, the company isn't exactly thrilled with having these characters ripped off in the US. According to The Daily Meal, Toho has taken issue with the products manufactured by New Orleans Lager & Ale Brewing Company. Apparently the Godzilla creators feel that Mechahopzilla beer violates a few copyright laws. As a result, the company has filed a lawsuit against the brewer. The folks at Toho reportedly filed the lawsuit after the brewing company decided to ignore requests to halt the manufacturing of Mechahopzilla beer.
Yikes!! What about that beer from Ithaca? You know, the one whose saving grace now, as Craig noted two years ago, might be the fact that Ithaca is the site of Cascadilla Falls. But who knows. Anyone can sue anyone, right? I've been enjoying Cascazilla on a regular basis for over eight years now but I have to admit that were it to be called something else it would be just as tasty. Which does put a lot of beer branding in context, no? I mean is it one thing to get fetishistic over "lambic" but is there anything intrinsically related between any particular beer and any particular word? I think not.
Beer words are wonderful. They are ancient and monosyllabic. Guttural and descriptive. But for the most part they are irrelevant, aren't they. A beer by any other name is just as sweet. No?