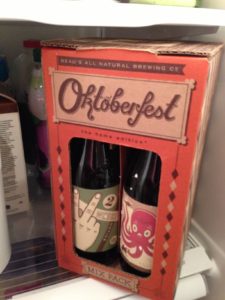 It's Friday. Friday evening. The Friday that is the end of the first full week after summer vacation. If it was undergrad this would be the weekend you show that you learned the lessons of frosh week. But it's not frosh week, is it? No, instead of cheap ass beer or rot gut booze it's a glass of the dessert wine after another milestone in the generation coming up behind. Cake and wrapping paper piles. Note to file for the 13,753rd time: beer does not go better with desserts. Give me a beer with noble rot and then maybe we can talk.
This week I discussed brewing with two groups that are thinking about opening that first production brewery in my town. For a few years a couple of times a year I have had the lunch or the cup of coffee, discuss what it might take and… still no brewery. These groups are different, however. Well funded and populated by folk who have run businesses, made decisions. People who understand that a sack of grain needs to be carried up that ladder. I hope one of them makes a go of it. At least one. If only for my sake.
The first draft of the Alan and Max Book was sent out to a few readers. It is so weird that I am not sure what to make of it other to suggest it's a stark and incisive dialogue that bends time and space. I've been writing three things other than this blog for a few months now and, given I also have three co-writers, I am fairly pleased that I can even say even that much about this one. I am really worried the Ontario beer history will have a scene in which Ron Pattinson crawls out of my shed. The most honest assessment so far is the one from Craig. We'll be hundredaires! And so shall we be.
Now? Now there is an Oktoberfest mixed pack from Beau's to consider. They were so rightly pleased with the design that the sample came with instructions on how to recreate the cardboard carry all. The results are shown above. Roggenbier, maibock, rauch weissbier and German porter. Think I am starting with the Oktobock.