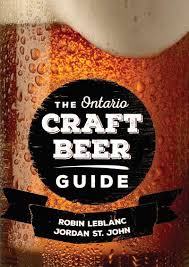 I have been remiss. Well, late. Not lazy. Late. Distracted? Distracted. Jordan and Robin sent me a digital copy of this book weeks ago and I have only gotten to writing my review now. There's been taxes to do at the last minute. Children to take to sports or hover over as math gets the best effort we can expect. Evenings like tonight at City Hall giving my best advice to council. I got a hair cut Sunday. At 11 am if you are wondering. But all the while I have kept dipping into this book. I like this book. I like this book for a few reasons. Let's be honest. I have secondary skin in the game. I co-wrote the history of Ontario beer with Jordan. It'd be nice to think that everyone who buys this book might buy our book, too. But that's not why I like this book. I like this book because this is the book that got me interested in the beer over the next horizon over a decade ago.
Well, not this book. This form of book. A regional guide. Like the ones Lew used to write. In 2004, I read Lew's New York Breweries and ever since I have tried to ensure that there were NY beers in the stash – and NY hot dogs in the freezer. He not only told you where to buy the beer but also where to stay, what to get the kids into and what snacks to buy. See, there have been a number of sorts of beer books over the years. Sure, there are the global style guides as well as the food and beer pairing books. But there have been the Brewers Association style guides that started with Terry Foster on pale ale, the History Press histories including the two I helped write, those annual Good Beer Guides from CAMRA and all the home brewing guides, too, back to the Amateur Winemaker books of the 1960s written by C.J.J. Berry and Ken Shales as well as the fabulous David Line. Then there are the wonders like Unger's histories of the Baltic and North Sea facing lands from 1000 to 1900. There is Boak and Bailey's remarkable Brew Britannia and Pete's wonderful books of a recent and yet some how lost era ago. Before I liked all these and the rest that sit in piles around the house – I liked regional beer guides. Like this one.
Regional guides contextualize beer to a place and time. They have a level of comprehensive detail that is hard to capture in any other sort of beer book. They are as useful as Peterson Field Guides: Eastern Birds, the granddaddy of this entire class of writing. Ontario Craft Beer Guide follows in that tradition with a particular exactness. Exactitude. See, unlike even many regional beer guides, Ms. Leblanc and Mr. St. John tell you exactly what to expect. They explain which breweries are doing the brewing and which are really wholesalers hiring others under contract to a specification. They have a numerical rating guide which – wait for it – does not range all the way from 72/100 to 94/100. Not everyone wins a participation ribbon in this universe. In their system poor beers can earn a 1.5/5 and come with a resulting warning and great ones can be rewarded with a truly rare 5/5. I am having a Rhyme and Reason from Collective Arts right now solely due to the 4.5 they gave it. And they were right.
Do I have quibbles? How could I have quibbles? They were on the road for months seeking out every beer they could! Have I? No. And I actually know a thing or two. Do I like some beers a bit better than they do? Sure, I do – but that's not often the case and where it is I have reasons. Like I am an older guy who likes slightly maltier beers. Save me the loser facile tropical hops. I can open a can of fruit cocktail, too. But with this level of detail I can transpose my palate to their recommendations and still trust their recommendations. Trust. That's it. I can trust a book like this. So can you. Mainly because I don't need to trust it. It's so reliable. It's got facts. It's full of facts. Facts about good beer are actually really hard to find. You want facts about good beer in Ontario? Here you go.
If I didn't live in Ontario I might say that it's too bad they didn't add local context like Lew's regional rules of boiled and fried wieners but let's be honest about this, too. Snack food is not what made Ontario. Natural produce? We got it. Local wines and fine wild meats and fish? Sure thing. Local snack shacks? We live on rumours of such things beyond the borders. It might tell me some other reasons I might want to go to North Bay or Sarnia, too. Maybe in the next edition. Or not. When Lew wrote those first guides 12 years ago, the internets weren't telling me what they are now. We can actually luxuriate in the focus as much as those other facts. That's good.
Wonder not. Make the call. Buy it.