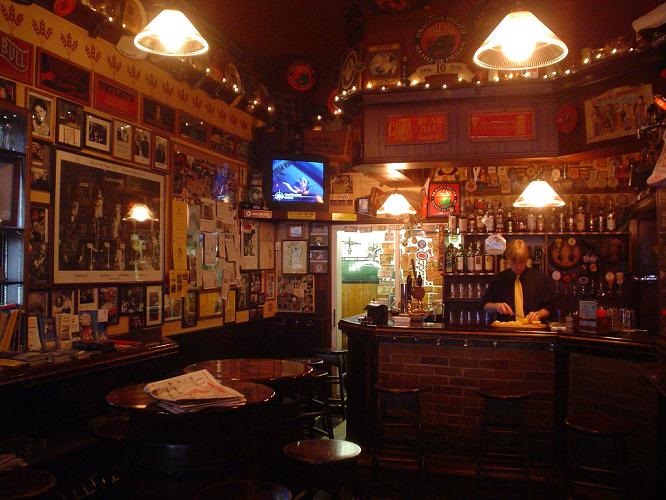 Twelve years ago… seriously…
Ah, the pub lunch. It's Feb Fest,  our municipal winter carnival so we got out of the house and downtown for a pub lunch – well, after watching a bunch of seven year olds playing hockey on the outdoor rink behind City Hall. Surprisingly good game. Yellow against red. A butterfly save was made. Back checking even. The lad we know scored a goal for team red. Knuckle punches given. Goodbyes shared after dinner plans made.
We marched over at the Kingston Brew Pub right after the final whistle. The oldest continuing brew pub in Ontario, they have a newish menu focused around their own smoker out back  – and are carrying about twenty Ontario made good beers in addition to their own. Kale and bacon soup. Veggie tacos. Big burgers. Good to see the owners of another great good beer bar in town having their family lunch in the next booth over. Yellow teamers. I still said hello. We got a front window booth, one of the best spots to sit and have a beer anywhere.
I had a Junction Hey Porter! as well as Nickelbrook's Headstock, two beers that ask you to explain the point of beer hunting into the States. The exchange rate is enough of an argument now for most but Ontario has done much to stop the grumbling. I think I need to admit that the KBP is my pub. This is at least my 25th year of going there even if we've only lived here for fourteen years. We watched Canada lose to the USA in the final of the 1996 World Cup of Hockey. My children have grown up eating there. I am not sure what that means to me but it means something.
I do know a pub man in town, a cheery snappy grumbly Welshman prof now in his eighties, who may now not be so able to get around. He'd have at least double my time in the local pubs. I saw him last in the KBP, holding court. Great guy. He must have seen and amazing shift in the scene given he was here for two decades before the brew pub opened. But the recent news is pretty amazing and now coming at a rapid pace. Just three years ago the nearest breweries were an hour's car drive away – at least. By the end of this year, we may have eight in town or within a half hour's drive. And they are good. I have an excellent brewer from western Lake Ontario asking me to introduce him to the guys I know at Stone City. I get a bit frustrated that I can't get any of the excellent black lager or Belgian pale ale made by Napanee Beer Co. because its all of a 22 km hike away. They opened last spring. I am consoling myself with Kings Town Brewing GPA at the moment. They've only open for about six weeks.
I am not sure what that all means to me either but I have planned in better weather how on a Friday I can take the 701 bus from downtown, hit KTB for a growler, then plant myself at a favourite sports bar and wait for a drive home. That's good. And new.