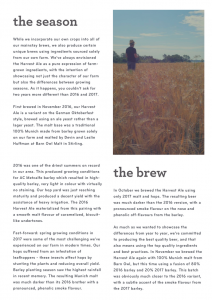 You will recall my slight obsession with MacKinnon Brothers Brewing Co., located a mere 20 km to my west in the Loyalist town of Bath, Ontario. Attentive readers will recall that brewmaster bro* Dan joined me to represent Canada at the 1780 Challenge organized by Craig three years ago, back in the spring of 2015 in central NY, where two brewers used cut straw stalks as part of the wheat beer mash just as we discovered they did back then. A fun day. In fact below, in the leftmost thumbnail, you will in fact see Dan MacKinnon mock inviserating Craig Gravina in one of the greatest "brewer gets back at blogger" moments in recorded history. I'm getting verklempt.
Well, this week I got an email and then a box at the door both from Laura Voskamp, the rapidly expanding brewery's media contact. The box came two half growlers labeled "Batch #1" and "Batch #2", two bags of malt labeled "2016" and "2017" along with a note. The image above and to the right is the note. Below in the middle thumbnail are the bags of malt in the cool clinical laundry room light. I did my part to share the news of their first 2016 release of the Harvest Ale which was generally received as one of the best beers to come out of Ontario. Jordan and Robin dubbed it "estate beer" which works for me. So, very much looking forward to this bit of a beery performance art piece in a box.
Ivan MacKinnon** added a bit more information by email. Both malt sample were  Munich malt made from the Metcalfe barley strain malted at Barn Owl. The 2017 is darker, quite clearly stained.   In both cases, the quality is excellent but their differences reflect the growing season, mainly. Rain and insects hammered the 2017 crop while the 2016 basked under the sunny sun.  Out of the situation, as stated above to the right, MacKinnon made two batches of Harvest Ale out of their 2017 barley. The first, straight up bug and rain reality and the second a blend of four-firth 2016 malt cut by one-fifth of the 2017. Batch #2, the blend of 2016 and 2017 is lovely. When I wrote my notes on Friday night, I waxed poetical:
Light copper coloured ale. Approaching the colour of that good French cookware. Taste: Brewery characteristic apple richness while still a level of dry attenuation. Mid- mouth prominent note of smoke wells up but more like unsliced rye than just sootiness. Hefty note yet woodsy. If this is harvest, it's late in the season. A sensation leaf pile. October not late August. Even a fattiness that remind me of my favourite Polish Krakowska sausage. White pepper.  Leek and wild mushroom sauce on venison. And a jug of this. Then it fades – a diminishment of the rustic. In the finish as apples and nut flair up to stand with it. Malt smoke russet apple in quick succession. With, then, light toffee plus a hint of  an unfiltered McDonald Export A green label tobacco as a last lingering hello. Your uncles coat including the hard candy he'd slip to you if you were a particularly clever pest to your parents. Earthy sweetness. Their Crosscut making the big leagues? Lovely.
Hmm. I suspect the sample may have contained alcohol. The pure laine uncut Batch #1 from 2017 is not as lovely. While the brewery describes it as phenolic off-flavours, I would say celery and cumin. Which is not what many are looking for in a beer and to be honest, on a Sunday morning doing laundry while skipping church, it's a very spicy dry experience. But the underlying malt sweetness is there and this clearly has the brewery's house style. So, it's an educational moment rather than one poetical.
Still, it has its use. Not a drain pour. I am having a bit with Brie on a bun as T-Rex plays on the turntable while the clothes get done.*** And it is being bashed into the crock pot of baked beans I have gurgling away in the oven, dry beans I grew myself out in the garden. Batch #1 is perfectly geared to sit along with the mustards, molasses, ancho pepper, ginger root, Seed to Sausage saucisson sec from just north of here and all the good other things I threw in there. Local barley. Local malting. Local sausage. Very local beans. Local terroir aplenty.
*An actual bro, by the way.
**Also an actual bro.
***Turntable dust matching dryer lint. One side of the LP matching the wash cycle almost exactly. No doubt this lifestyle is exactly what Bolan meant when he said "born to boogie."