Well, that was interesting. I was out grocery shopping yesterday and discovered that arguably the best Ontario beer selection in town is pretty much at a grocery store I never go to all that often. It's a bit of a premium store. The sort of store where a can of something I can buy for $1.39 somewhere else sells for $1.64. But then I went down the beer aisle that has been added since the great beer reforms of 2015 and found myself happily surprised.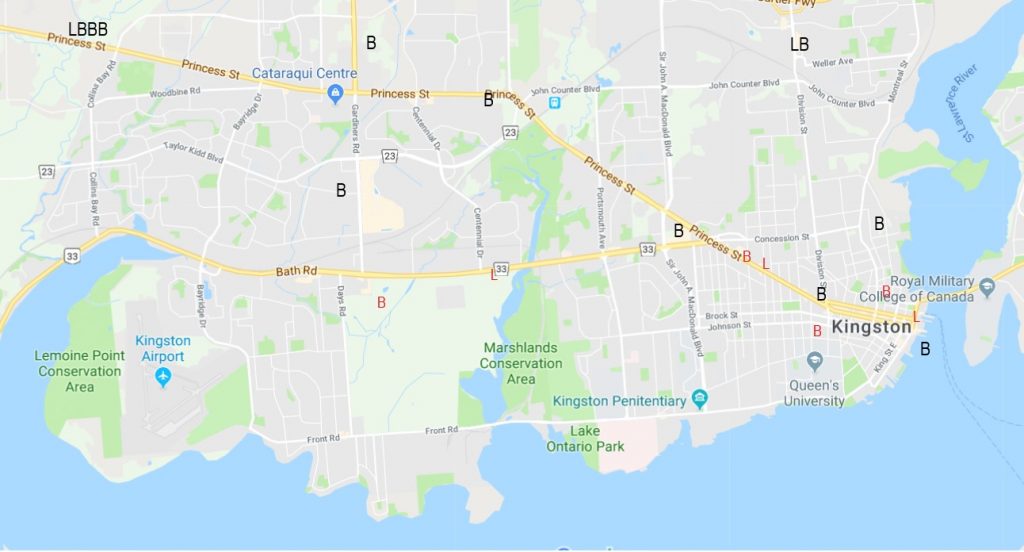 I bought a few things. Two ciders not available elsewhere. A few brown ales, too. Not much. But it got me thinking about how the reforms as well as the advent of our local craft explosion had changed my marketplace. Above you will see in red the seven outlets for take away beer in my fair city until maybe five years ago. Then, as noted in black, we started the local beer boom and suddenly there was Stone City, Riverhead, Kings Town, Maple, Kingston Brew Pub and Spearhead growler and can sales along with beer, cider and wine at two Loblaws, a Farmboy as well as Walmart. And, if I drive a little out of town, we have MacKinnon Brothers, Napanee as well as Gananoque breweries too. Have I missed any? Seven take away locations has reached into the mid-twenties. Still, laughably low for any other location in the western world.
Does beer begat beer? Not sure. Was I right to be suspicious when the reforms were announced? Well, it appears we have received four of the grocery store licenses instead of the two I predicted. But there are maybe pushing twenty or so grocery stores in our fair city of 125,000 or so.  Why can't I buy beer at the places I regularly shop? Ben J noted that there were supposed to be "craft beer zones" in 25 other LCBO locations across Ontario. Don't think this occurred – sorta like the earlier LCBO growler initiative that saw maybe eight taps provided for the entire province.  Jordan dismissed the idea that it would be just big craft and macro. He was right and also a bit wrong. The coolers and shelves have a good selection but no outlet is in any way comprehensive. I might have to go to four or five stores to actually buy all the beers I might want to offer if I was having a do or, say, a shindig. The nearest outlet is a 30 minute walk away.*
So, two cheers for the reforms of 2015 to date. We have a more complex market place but one that could easily be simpler. We are weeks away from the next election in the Province of Ontario. You would think this might be an issue but, as with the last campaign, I expect to it be unfortunately quiet. Some things are either too important or not important enough to be debated at election time.
*I lie. There is an outlet of TBS 15 minutes walk from my house. I rarely go there but decent beer is possible to find there.