Time. March 2018 is almost gone and I barely noticed it was slipping away. Q2 looms. Which is great as I hate winter but which is not so great as I turn 55 next month. Did I mention that thing about time? Still frigging cold outside, too.  That in itself should help you put the week's news about fretting about beer in perspective. Come on spring. Hello? Anyone there?* OK, I get it… let's see if the beer news is cheerier.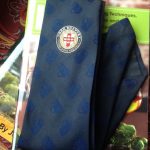 First, another vintage brewery necktie for the collection. Please – send me your neckties. I may not get samples and would stick nails in my eyes before I went on a junket but I will take your ties! That would make me happy.
Next, a number. 6,266!  Wow! That's more than before and likely less than from a bit from now. That of course, is not the real news. It's nothing like that deep insight that things are "normalizing" – whatever that is. No, the real news came out in a web PR release that came out a day after the infographic that unpacked the numbered with an inordinate level of honest detail in the section entitled "Per Brewer Growth":
In absolute terms, per brewery growth was less than 200 barrels last year. In 2014, it was almost 900 barrels. To drop like that suggests both that many brewers probably aren't seeing the growth trajectories of breweries from a few years ago, and that many brewers are declining. The table below shows the distribution of companies with 2016 and 2017 data (so excluding 2017 openings). I've starred the "more than 50% group" as a reminder that a huge chunk of them are 2016 openings—50% will average growth of 100% or more just due to when they opened in 2016.
| | |
| --- | --- |
| 2017 Growth | % of Breweries |
| -10% or worse | 17.0% |
| -10% to -1% | 10.3% |
| +/- 1% | 15.3% |
| 1% to 10% | 10.0% |
| 10% to 25% | 13.0% |
| 25% to 50% | 11.6% |
| More than 50%* | 22.9% |
The positive interpretation of the table above is that even in an extremely competitive environment, 73% of breweries were flat or up last year. The flip side is that 27% saw declines greater than 1%, and 17% saw double-digit declines. 
Interestingly – but that is actually not the story. Notice above that there is a category for "+/-1%"… that's is a weird choice of measurement. Unlike all the other bands. If you remove it, and aggregate it with the categories above it you will see that 42.6% of breweries saw no discernible growth or actually saw significant retraction. Then, understand that this is a percentage of the number of breweries and not a reflection of brewery production.  Since 2014, as the infographic says, there have been over 2,500 brewery openings in the US. 800 in just the last year. As these breweries are going from zero growth to some growth, it is logical that most of the growth by brewery numbers is based in the tiny recent entrants. Old bulky big craft appears to be stagnant or worse. I think we have been coming to that understanding over the last couple of years but it's good to see the BA set out the numbers that tell the tale. Good news that.
Speaking of old bulky big craft, medium-large US craft brewer Green Flash is pulling up stakes and hightailing it out of the "branch plant out east" business. Likely they found out, as many are, that folk out east have plenty of beer out east that tastes like beer made out east and they like it just fine. Interesting: "…this is a move that was made to solidify investments to keep San Diego's operations above water." Wow.
Pete Brown wrote a wonderful thing Tuesday all about how rough his last decade or so has been. Folk called him brave, honest and an example. All true. It's also a huge success. Kind of a graduation day speech. See, I have had two or three dabblings with what Pete wrote so openly about and, so, I know (i) I still couldn't write what he wrote and (ii) it's a measure of his success that he did. Hooray! I am very pleased but also concerned given how many people in good beer I would describe as stressed out, unhappy, dysfunctional workaholic who soothed themselves by eating and drinking too much. Be careful out there.
In another episode of where are the beer bloggers of 2009, Jeff of Stonch [ … now of Rye … but presently in Lunigiana…] reviewed a  beer this week:
Unsolicited trade samples aren't usually terribly good. In truth, if a brewery's making good beer, those with an interest in buying it or writing about it will have sought it out themselves. Similarly, beers with obscure geek culture references as names – the type that leave one none the wiser even when explained in detail – also tend to be shit. This one, therefore, surprised me twice.
Fabulously honest writing. Unlike anything edited and sold for payment. Which makes one wonder why, as shared in the recently circulated NAGBW Newsletter 2018.3, that the topics for NAGBW symposium during the Craft Brewers Conference has the three topics for panel presentations:
– "Beyond the Byline": book publishing and podcasting;
– "Editor's Roundtable": leaders from industry publications share insights; and
– "Industry Roundtable": hear from industry pros about pressing topics in beer.
None of which will lead to be a better writer even if you become a more compliant, less individualized one. It won't make a Ron. And we all do know there is no real money in beer writing, right? Don't be doing this for making money from writing… please. And don't be sloppy researchers. Ben hates that.
Speaking of sloppy research, the great thing about the debunking of myths about lambic (often seemingly peddled by the edited and published) by Roel Mulder of Lost Beers is how the actual far more interesting story of lambic is explained.  It's younger than the industrial revolution, it has been brewed in a far wider set of locales and didn't rely on old hops. It's about as traditional as mass produced Porter in mid-1700s was. Fabulous.
So there you have it. Another week filtering the positive from the dreary, the genuine from the fake, real from the seeming, the worthy from the transient. Ahhh… annnnnd… nothing turns on it. I probably could have done better, too. If I had made the effort. Something similar will happen next week. And I will be there to check it out as will Boak and Bailey on Saturday just as Stan will on Monday.
*making the noise of knocking on a window pane.