Matters
? None of this really matters all that much. Fine. Maybe posts like this are just the stuff you need to get you to – or
through
 – the stuff that matters. Let's go with that. It's OK. A quiet week now and then is nice. No need to puff it up with claiming this post is a "deep dive" into this or that. Is that why so much get the head scratching these days? Is there
actually
"
an increase in beer media types tweeting about beer just because they want freebies
"? Does that really
matter
? Yet… who thought that, by Wednesday, the TV ad up there from 1995 would matter so much now, twenty three years later? But it does as it's a matter the center of a lawsuit that might end up maybe marking the end of an era. More below. Deep down there.
Before that – first, but not exactly unrelated – I find a certain sort of post, illustrated this week by one Pete, a bit… odd. You may not agree – which is fine – but let me express myself for just this one instance.  Please. What I don't get is while he concludes that what he finds odd is an article motivated by the desire to "create specious claims" he spends a lot of time saying things like "that's certainly food for thought" and "there are certainly some interesting points" which, for me, leads to the critique of the article sounding a lot like a sibling of the article. Which leads me wondering why the article, the one he didn't like, would matter to Pete that much. It's not like I don't sympathize. I was shocked when I read about "The Secret Brewery Battle That Could Kill Manchester's Booming Craft Beer Scene"! but then couldn't believe my eyes when I read about "The Secret Brewery Battle That Could Kill Wales' Booming Beer Scene"!!! Clearly there is less than 85% overlap between the two articles so… journalism can't be dead! [Note: intracraft warfare now clearly out in the open with the use of "beer bullies" by one local Mancunian know-it-alls. Well… sometimes they do know something, right?]
All I mean is what we are all seeing around us is far more interesting : the expansion of craft by including and retaining anything claiming to be craft; freakshake pastry stouts, the churn of increased brewery closures aligning with the uncertainty tiny brewers bring; and the seven year itch that, yes, is hitting the craft beer monogamists. Being a spectator in a ripe time of transition behooves us all to spectate. Which sounds a lot like speculate but it's really quite a different thing all together. Let's just sit and watch for a bit. There. That's better. [Note: if you love something let it go.]
Perhaps conversely… but maybe not, my own dear old hometown newspaper ran an article on my own dear old undergrad alma mater's historic brewing studies – and it's perhaps the most honest bit of beer related journalism I've read in yoinks. [Note: Apparently, we usually can't handle the truth.] So much of what was made sounds horrible. Did anyone get an F for their project?
In an even more real case of matter… and perhaps even anti-matter,  I think we can all agree that we don't need to check out the Royal Oak in Wigan. Don't go. The back streets of Ron's Amsterdam, however, are where the clever should aim there feet.  [Note: Ron hit the exact sweet spot for mushy not mushy this week. Govern yourselves accordingly.] And speaking of travel and also as a matter that surely matters, I would still be mesmerized even if it turned out that Lars has been stringing us all along, weaving an entirely fictional fraud upon us all with his northern farmhouse ale studies. "Koduõlu, the traditional farmhouse ale from the large Estonian islands in the Baltic"? Who researches that? Lars!
What else? Well, given my recent doubts as to the point of taproom fever, it has been playing the role of interesting subtext of the week. What is a taproom anyway? Beeson, J. is of the opinion that if the beer is not brewed on site surely it's just a bar. Yet the utterly venerable Laxfield Low House in Suffolk clearly has a taproom yet does not brew. It is the room where casks are tapped and served on gravity. [Note: it has a taproom but is not a taproom.]  The Royal Tavern here in Kingston, Ontario has a sign over the door that says "Tap Room" but – even though the establishment predates Canada and was a haunt of our first Prime Minister – it's just a bit of a hard dive.  Not Wigan Royal Oak hard… mostly… mainly. [Note: it has no taproom and is not a taproom but claims a tap room.] I suspect taproom is like curate, code for "modern thing or action which needs not be investigated and considered so much as put up with and outlived." [Note: Did I mention I turn 55 next week. Does it show? If you call it "double nickels" it sounds way cool, too, just like "curate"!]
You know what matters? You, the kind reader. And this has to be the most heart warming response to a weekly newsy notes post ever: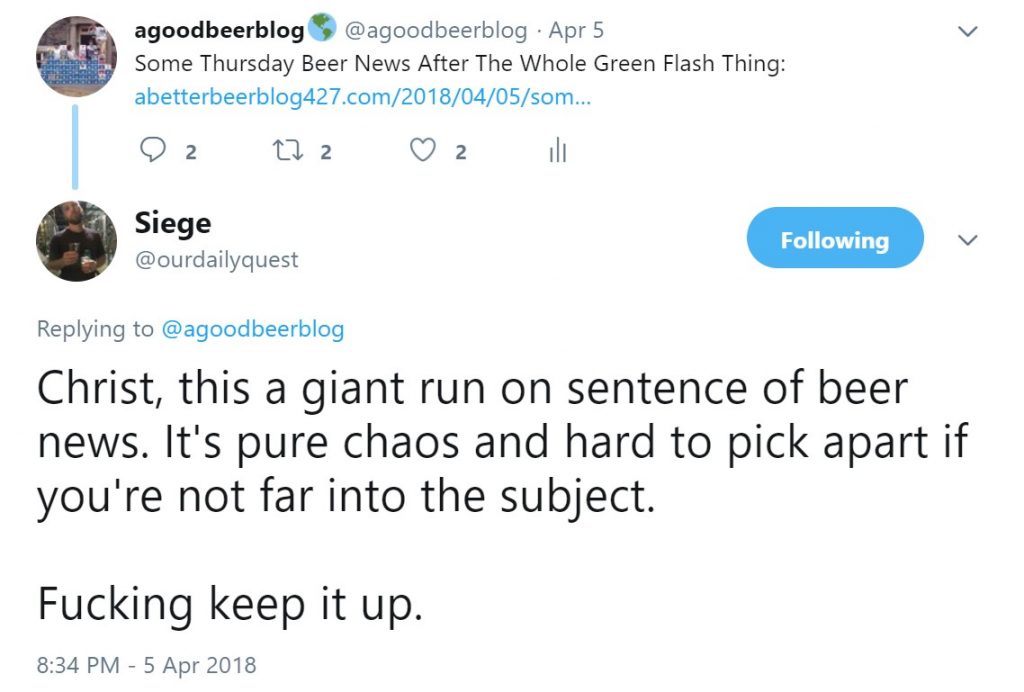 OK, then. I will.
Finally, that matter at the top of the page. That 1995 TV ad way up top… that's actually referenced in the Answer and Counterclaim filed by MillerCoors in the Stone vs. Keystone lawsuit archived at Syracuse, NY attorney Brendan Palfreyman's website.  Much of US-based beer social media was humming about the contents of the Answer as well as Brendan's analysis on Twitter. The bottom line is this. Stone launch a court action a couple of months ago claiming a bit of the moral high ground. But, as I noted last February, there is plenty of evidence of the use of "Stone" related to Keystone beer before their trademark was registered and under US law this is important. As stated at paragraph 29 of the Answer:
…Coors' use of STONE and STONES predates Stone Brewing's use of STONE. When co-founders Greg Koch and Steve Wagner decided to adopt the moniker Stone Brewing in 1996, Coors was already selling Keystone beer nationally in cases labeled STONES and running marketing campaigns advertising Keystone beer as STONE. MillerCoors did not "verbatim copy" Stone Brewing's trademark. If anything, it is much more likely that Stone Brewing copied the STONE name from Coors, since Keystone beer was already advertised as such in the market.
It sounds like bravado but at section 23 of the Answer, it states that Koch said the following in an interview about Keystone's 1995 "Bitter Beer Face" ads (like the one up there at the top of this post):
Basically it was a misinformation campaign. It was designed to tell the American public 'You're not sophisticated enough.' Let's try to tell you that you don't want better beer. It's really a form of oppression. There's just nothing short of it.
This is an amazing bit of evidence. Needs to be proven in court but, funny enough, that is what MillerCoors apparently is going to do. Watch the TV ad again. I had no idea there were "anti-hoppy" ads running in the mid-1990s. What is not to love about that ad? Well, maybe not if you like that bitter puckery micro beer. Which might cause a mid-1990s upstart with oddly strong impressions about what oppression means to take aim at the gargantuan brewery making fun of your dreams on the TV.  Wouldn't that be funny if over two decades that attitude were now to come back to bite someone. Sometimes a particular stone is the best means to clarify what is real. Who knows? Let the court decide, I say!
So there you go. What looked like another dull week explodes again by my Wednesday deadline to send this baby to the printing shop… boom. No doubt there will be even more for you to consider from Boak and Bailey on Saturday and Stan on Monday.