Searching the on-line archives on a quiet day off, I found a very interesting bit of news in a June 5, 1988 article in the entirely venerable Watertown Daily Times  under the headline "Prohibition Invention Made in City" which describes one aspect of the local bootlegging trade when distributing Canada's gift of beer imports was a boon to the good folk of upstate New York. The border area was, as would be expected, a hotbed of smuggling – but in the middle of the article there was this startling passage:
By 1925, even the New York Times carried stories stating that Watertown was the hub of illegal beer shipments. On Aug. 20 of that year, newly appointed Buffalo Divisional Prohibition Chief Romaine Merrick, who was assigned to northern New York, told The New York Times: "In the Buffalo District, I will have the largest distillery in the state. It is in Watertown." The next day, The Watertown Daily Times wrote a reaction story, stating that only near beer, a legal beverage at the time, was known to be brewed here. 
Little did they know that sometime between 1919 and 1928, the owners of the brewery had constructed a secret cold-distilling and bottling operation worth $50,000, concealing it in a nearby garage. The federal Treasury Agents were amazed. They thought they had sealed off the area nine years before… Federal officials had found two huge vats in the basement of the brewery, where cold water, malt, hops and yeast were being mixed and allowed to ferment slowly into high-alcohol beer. The beer was then filtered through special paper that collected impurities, and piped to an illicit bottling operation nearby.
Now, as I wrote in Ontario Beer, we all know that even though Canada had a form of restriction on the legal sale of beer during our temperance era, there was never actual full on prohibition. Restrictions were largely imposed province by province. The breweries were not shut down as that was under federal law. And the era of temperance ended when the realization was realized that the breweries (and wineries… and distilleries…) were making masses of untaxed wealth off of the export trade. And the Canadian export trade was exporting into the USA. So, that the Feds, the G-men, were on the trail of bootleggers was normal.
But what was going on in that basement was not normal. What the heck was this cold fermented, filtered, high-alcohol beer? The 1988 story quotes a nephew of the final owner of the brewery who said "[e]veryone liked the beer…" and also Watertown resident Samuel Frazitta who said that it had a real kick to it and "tasted real good."This is important to appreciate as these recollections were reported in the context of an area awash in the 1920s with good Canadian beer and liquor. But what was it? Apparently the secret brewing process did not require boiling the wort as that would have attracted the Federal agents far sooner.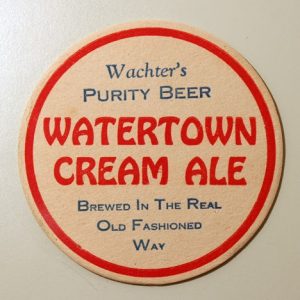 There is more background in this 2017 article and in this 2014 report in Northern New York Business magazine stated that the equipment included "vats that contained 320 barrels of beer in various stages of fermentation" so not a tiny operation. After the end of prohibition, the brewery continued for about another decade as a legitimate operation under the name Northern Brewing Co and was known for its:
…malty, full-bodied, European-style brews, with high alcohol content and a head you could stand a spoon in. Specialties included Watertown Cream Ale, Old Style Lager, and Jefferson Lager Beer.
All of which is interesting. Notice the prohibition beer was made of malt and hops and not just some fifth-rate sugar thrown together to make some sort of hootch. It was both malty and enjoyable. Which is also reasonable as the operation during the prohibition era was actually making legal sub-2% alcohol beer. And reasonable given the brewery had three phases of legitimate brewing: Watertown Brewing Co.(1893 to 1901), Watertown Consumers Brewing Co.(1901 to 1920) and The Northern Brewing Co. Inc. (1933 to 1943). To these can be added the illegitimate operation from 1919 to 1928.
But what was the cold-fermentation, non-odorous brewing process that was used during the bootleg era? Certainly it appears to be a singular process, without replication elsewhere as far as I know. Maybe Stan or someone else knows more. Another indigenous hidden style. Heck, is it a new, mysterious hidden technique for the crafteratti to now explore, appropriate and, then, almost immediately ruin by loading it up with fruit flavours and glitter?  Maybe. Needs more study.