Does anyone love November? The World Series has been won, the leaf lettuce took a hard frost and all the Halloween candy was handed out last night. What was left of the evening has shrunk into the afternoon now that the clocks have been changed in the UK and will change again in North America over the coming weekend. The end of October is really the end of the year. The next two months should be their own season. Good winter. Purgatorial autumn. Like driving through New Brunswick, you just want get past November even if it's 1/12th of your life.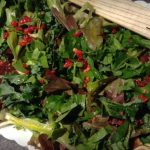 Just look at that slightly out of focus photo of my salad from my eastern Ontario garden, picked just a few days ago. Now everything on the plate is dead – except the kale.* Kale, the salad green of death. Bringer of children's tears. Can the news in beer turn us all away from thoughts of kale and the grave? Let's see.
First, one can go out like and when one wants to go out through preemptive liquidation:
Honestly my heart hasn't been in it since the premises move, we expanded to the wrong size, and Gaz's creativity has been missed.
Speaking of the heart not being in it, the US Brewers Association is apparently going to change the definition of "craft" again (as if they control the concept) by ditching "traditional" as a formal requirement. Keeping in mind that the one thing that divides "craft" from earlier "micro" is the practical abandonment of traditional practices, this is not a big change but, still, this is pretty sad:
According to the BA's current definition, which has changed three times since 2007, a craft brewer must be small (less than 6 million barrels), independent (less than 25 percent owned by a non-craft brewer), and traditional (a majority of its total volume must be derived from traditional or innovative brewing ingredients). It's the last pillar, traditional, that is under review, in part because an increasing number of craft brewers are already experimenting with non-traditional beer offerings such as flavored malt beverages and hard seltzers. A growing number of BA members have also expressed interest in creating beverages infused with THC and CBD, Wallace wrote.
So, in response to the BA, it should be clear there is now room for, you know, a traditional brewers association that actually has an interest in beer and not just profiteering from a collective brand. Just don't call it anything related to craft. That's for factory beer now. The reasons for doing this are, frankly, less than honourable and so personal reactions seemed to divide into two groups:
(i) those who consider craft beer to be made of craft brewery owners – these folk who then love this because they seem to get a vicarious joy from seeing these brewery owners get richer;** and
(ii) those who consider craft beer to be made of… beer.  These folk laugh at bulk ciders and soda pop being called "craft" anything but know why it's being done.***
Conversely, I have been cheered by the Beer Nut's notes on his fluid fueled travels  at the end of the summer throughout Ontario and Quebec, the very parts of Canada most nearest me and myself. He posted about a side trip to Quebec City during which he was caught breaking the law and otherwise up to no good:
Two mouthfuls in, our friendly Via Rail conductor came by to tell me to chug it. Turns out train beer, or at least drinking your own beer on board, is illegal in Canada. Yes it said that on my ticket so yes I should have known, but it's still downright barbarous. No wonder passenger rail is underused. What's the point if you can't have train beer?
Ha ha!!! Other than his response to regulatory infractions, I am quite interested in his thoughts on the local beers I am quite familiar with: "…certainly like an IPA from the olden days"… "I approve. Isn't it good to know that "unfiltered" doesn't have to mean mucky?"… "Overall an absolutely benchmark modern IPA." The entire set of quite independent reviews is his gift to the nation… err, nations…
Speaking of Ontario, Ben wrote an excellent piece on a side project highlighting the process breweries can follow when pestered by bars who illegally demand freebies in return for access to their taps.
The system of graft for tap lines is so ingrained in the hospitality industry, fighting it sometimes feels futile… And so, inspired mostly by all the emails I was getting, I launched a website that allows people to post anonymously and share the emails from bar owners they were previously sending me. It's called Dirty Lines and it does still get some occasional action. I take no responsibility for the content there, incidentally. I don't investigate any claims. I don't vet submissions. It just lives there as a mechanism to vent, essentially.
Speaking of the End Times, I love this lyrical new rule of craft beer:
Efficiency in the managing of seasonal product requires an integrated approach to bring uniformity to how seasonal items are identified so that all contributors in the supply chain reap the benefits.
This lengthy tale by a fellow Oldie Olson might bemoan something things but as it is TL;DR you will have to figure out if that is the case.  I would note one thing: if you label yourself as "cool" either (i) you are really not at all or (ii) you are Miles Davis. And he's dead.****
Digging around in the past, Geoff Latham has uncovered a description of an English spiced ale from 1554. There is a great conversation in the responses to his tweet from people who know that there is nothing that can't be explored usefully in that concise shared medium. Speaking of digging around in the past, Nicola the mudlark of the Thames found a wonderful clay pipe at low tide marked with the sign of the Royal Antediluvian Order of Buffaloes  – and shared that it may well have been a pub freebie of centuries past. Fabulous.
A few legal notes to finish with. Beer retail franchisor Craft Beer Cellar was in a law suit with an employment review website over negative employee reviews but the claims appear to have been recently thrown out. See here and here:
The plaintiff argued that Glassdoor created/developed the reviews because it removed a review and then allowed it to return. The court disagreed: "Glassdoor's decisions to remove the 'review,' and to permit an updated version to be re-posted, constituted the exercise of a traditional editorial function. Without more, Glassdoor cannot be deemed responsible for creating or developing the content."
And Brendan P over at FB has posted an FYI which was a bit on the QT so I am acting PDQ:
Did you know that you can get every cent you pay in NYS excise tax on your beer back as a production credit against taxes owed? For example, let's say you sell 2,000 BBL in 2018. At NY's excise tax rate of $0.14 per gallon, that's $8,680 in taxes. Just fill out form CT-636 or IT-636 and you can get the full $8,680 as a credit against your taxes…
DO IT! LISTEN TO BRENDAN AND DO IT!!!
Well, that is it for now. I am up to over 1345 words! Every one a gem. I am off to dig into the one youngest child's trick or treat candy before she wakes. It's what I like to call "me time" but I expect you all approve. Remember to check out Boak and Bailey on Saturday to see what has happened since I cut and pasted this all together. Perhaps Stan will even post another teaser for the new month. Until next week, as the Beer Nut said to his train beer plans – au revoir!
*Miraculously, the red lead lettuce sprang back up after the frost and was completely unharmed. Fabulous. I know you would have wanted to know.
** See Messrs B.Roth and J.Notte.
*** See Messrs J.St.John and A.Crouch.
**** Unlike my leaf lettuce.