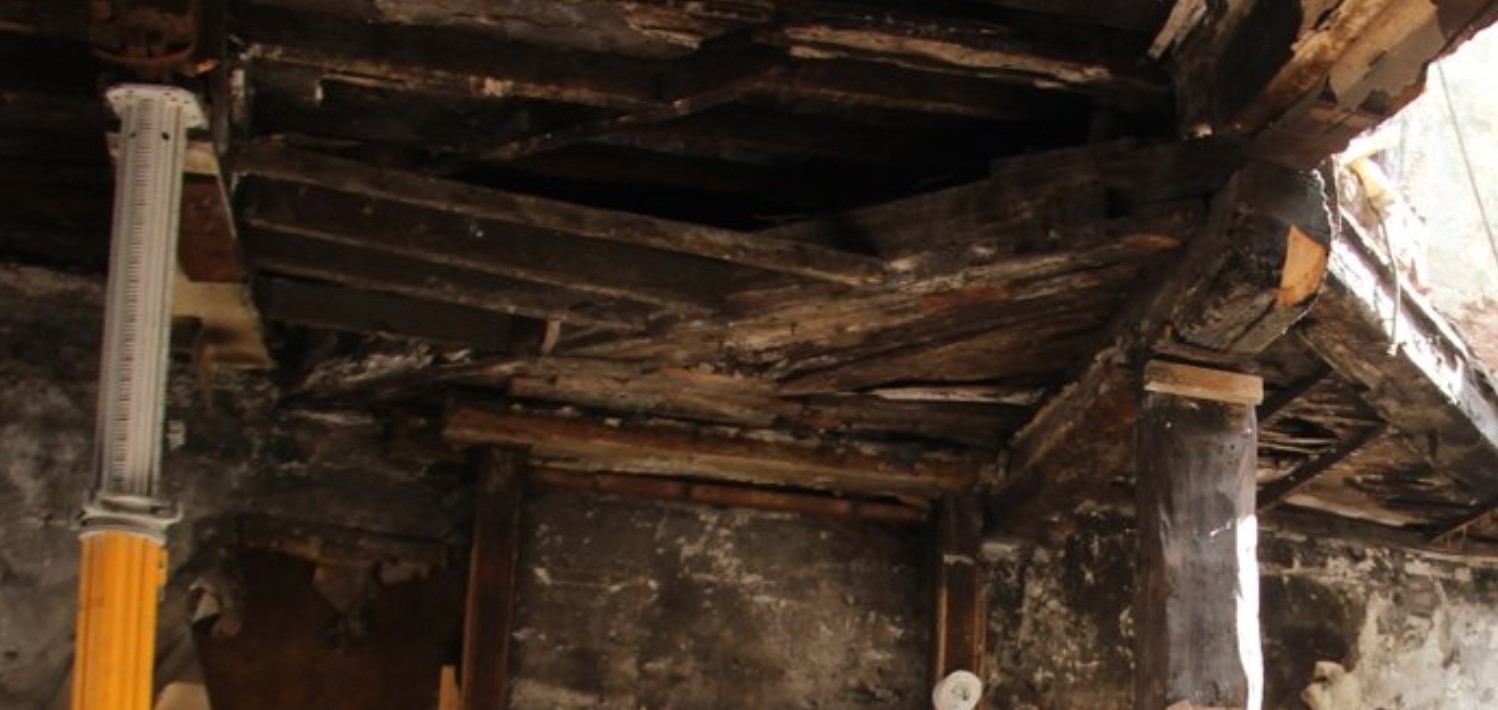 Woot!!! Holding up the roof since 1693!!!!
So… two weeks and a bit until #FlagshipFebruary* begins… meaning the inevitable rebound to #TrendyMarchMania will see some of the dry,  those off the sours for almost nine weeks hitting the bottle extra hard. You know, we really need to full year calendar to keep all this stuff straight – given we also have #MildMay and #DecemberIsForAmataurs, too.
As I mentioned a few updates ago, the US government shutdown has caused all approvals required by brewers from the  Alcohol and Tobacco Tax and Trade Bureau. I clucked at the time that at least this halted the manic pace of biere nouveau but – and with a hefty h/t to @beerinator – it appears that the permitting process is far more intrusive that that:
In a suit filed Tuesday in U.S. District Court in D.C., Atlas notes that the government has approved labels for its cans of The Precious One, an apricot IPA, but not the labels for its kegs, known as "keg collars" before the shutdown began. Those kegs can't be shipped out for sales outside of D.C. without label approval from the Alcohol and Tobacco Tax and Trade Bureau: Doing so would violate federal law.
Who knew that "permitting" included such minor matters?***1/2
Next but disconnectedly so, here is an excellent primer for buying wine for a crowded restaurant table. Note the following statements:
I simply order what I most fancy eating and what I'd most like to drink, that's what gives me most pleasure — even if the combination may seem bizarre to the sommelier… Do you worry about which cheeses to pick off a cheeseboard? I'm sure you don't, so don't worry about the wine…
Fabulous advice. Applies to beer, too.**
Unrelatedly, wonderful views (see above) of a +335 year old pub structure in Dublin, Ireland. Here is some backstory from 2016 on the efforts to save the structure:
"The astonishing skeletal grid of ceiling beams and joists is still intact on the ground floor, as well as early brick walls with ancient embedded timbers… With all of the modern partitions and ceilings now removed, the ground-floor shop retains all the grand scale one would expect of a public inn of the post-medieval period, complete with typical corner chimney stacks…"
Not connected at all, good to see some wonderful news of Young's in England taking a stand on saving its affected staff from the fallout caused by Brexit. More here on the business reasons behind this sensible move:
The boss of pubs firm Young's on Thursday cheered higher sales, but warned that hiring staff is tougher. Patrick Dardis said around 38% of his 5000-strong workforce are EU nationals, and added: "More workers [from Europe] are leaving here than coming. The recruitment and the retention of top talent is increasingly difficult.
Whiplashedly, ScienceDirect published this so it must be right. It's a research paper entitled "Why are young people drinking less than earlier? Identifying and specifying social mechanisms with a pragmatist approach" which sets out a number of reasons why my children are apparently smarter than I was as a kid:
Recent analyses of surveys of youth drinking in Sweden have found a strong decrease both in rates of abstinence and in levels of drinking among drinkers. For instance, alcohol consumption among 15- to 16-year-olds has fallen more than 50% between 2000 and 2012. At the same time, the abstention rates among boys and girls have increased from about 30% to more than 50% . Moreover, heavy episodic drinking has decreased from 34% to 18% among boys (ibid.)…  Similar declining trends of alcohol consumption among young people have been identified in other European countries, North America and Australia…
Virtigo inducingly, the Tand himself has posted about how craft sees cask and it's good enough to have a whole month dedicated to the #MarchOnCraftFibs campaign. It starts fabulously thusly:****
Yesterday there was a Twitter post that caught my attention. It referred to an opinion piece in Imbibe Magazine by Jessica Mason in which she claims that "We're on the precipice of a cask revival". The article goes on to explain her thinking which can be summed up – more or less – that cask can revived – wait for it – by modern brewers adopting Golden Ales. Well I exaggerate, but I hardly agree either with the way the article says "cask is becoming ever more exciting, flavoursome and stylistically broad" as if we've all been drinking flavourless crud for all these years and can only be saved by innovative craft brewers rescuing us from our own stupidity. 
And utterly conversely, I finally figured out what I don't get about GBH writing style. This piece by Roth is pretty good even if it needs editing down to get some control of the subject. It's like there is a need to give each source equal space.  And the obvious extra access to New Belgium, an acknowledged sponsor, is there, too. But those are the problems with the subject matter presentation. That's normal middly stuff. No, it's the fact that the letters "GBH " actually appear 22 times within the text of the story. Twenty-two! Breakout the flashing neon font. Enough already. One is enough. Three is cloying. But referencing your own publication 22 times in a story is weird. Needy. And too bad. It's an important story and would have been much better if it was just cleaned up with a lashing of confidence.
One last thing: stunning stats on pub waste.
That's enough for now. My neck hurts. Odd. Mid-January is quiet time. I actually typed all this while balled up in family quilts watching VCR recordings of cooking shows from the 1990s. Seriously. Who has time for -26C, Sunday's promised nighttime high?  I want it over. You want it over. Like Brexit, we know the next few weeks are just going to be ugly and we need to get them out of the way. Need relief along the way? Check out Boak and Bailey on Saturday and then Stan on Monday for a well earned break.
*Hmm. Now not thrilled with the hinted need to seek to attach a big old lumbering craft revenue stream to what is basically a hashtag.
***1/2Not sure what this footnote is for… it's even out of order.
**Have another cold Big Mac, you big carrot-headed lardass! [Note: as a distant cousin of Mr. President, I reserve the right to call him a big carrot-headed lardass.]
***So much of wine pairing advice these days is based on relaxing and not worrying while beer pairing advice is so anxious.
****We really do need to acknowledge what a clear focused writer the Tandy One is.