A reply to Bruno's post at his blog alerted us to the problem:
Heu… Un demi c'est 250ml, soit 1/4l, soit effectivement a peu pres une demi pinte.
This is the problem at set out in the post below:
…in France, when you order beer, the usual glass is the demi. France invented metric system, but some remains of the old days are still alive. A demi is in fact about half a pint, rounded to be 125ml. While a pint is being named distingué, and a liter of beer is a formidable (which I think means "smashing" – who knows why?)
That will soon read 250 ml. An email came flying across the Atlantic and, as it should, it has gotten me are talking about it.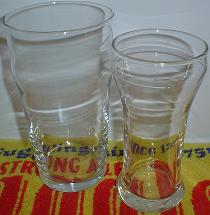 For me a "glass" of beer is a specific thing, a 8 oz glass which kind of looks like a butt end of a baseball bat (shown right). You only order them in pairs except when an additional small can of tomato juice is allowed. These were the rules of the Jerry at the Midtown and they are alright by me. By comparison, a "pint" should be a straight-sided 20 oz glass with a bit of a wow up near the rim to give a bit of grip (shown left). Not that weird barrel-shaped dimply thing with the handle. In Holland, you ordered trays of small round glasses with about 5 ounces of liquid and five of foam, passes the tray around and drank them before the foam dissipated – "dead beer" they called one without a head even if there was plenty of carbonation. Never caught the name of that glass, though Alfons might know.
But both Bruno and I are mere amateurs in the world of beer glass names – even with the excellently named formidable for a litre – compared to Australians who have different glasses and different names for those glasses in each state. I have known an Aussie who owned a pub and apparently this is a matter of great importance. Ordering the wrong schooner in the wrong town in the wrong way apparently can cause variation in your sperm count level and that of those with you.