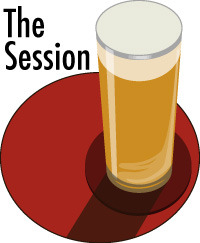 It's that time again. The monthly edition of The Session. Beer blogging boys and girls gather 'round the coal fired ISPs throughout the world to share their thoughts on a topic. This month our host is the Pittsburgh Beer Snob who writes:
At many points in history you can look back and find alcohol intertwined. A lot of times that form of alcohol is beer. Beer is something that connects us with the past, our forefathers as well as some of our ancestors. I want this topic to be a really open-ended one. So, it should be fairly easy to come up with something and participate. If you were among any readers I had when I posted most of the time you have a very good idea of where I might be going with my post when the time comes. The same doesn't apply to you. Do you want to write about an important beer event with great historical significance? Famous figures that were brewers? Have you visited an establishment that has some awesome historic value? Maybe a historically-themed brewpub? I wouldn't be surprised to even see a few posts on Prohibition. It doesn't really matter when it comes to history!
History is good. I am actually of the opinion the best histories of beer and brewing are yet to be written. But I also believe the best beer writing, thinking, constructs, descriptions and criticism are all a fair ways off, too. We wallow in times of self-satisfaction. Would you just look about you at the works so far, Ozzy?
Anyway, that being or not being the case, what to make of the state of brewing history? I have written a bit of my bit to be sure but I am still not satisfied. I have come across beer in the Arctic in the 1570s, the 1670s and the 1850s. Fabulous facts. Beer for those living on the edge. Why? Because it kept them alive. Happy and alive. Billy Baffin, that giver of what I think the most Canadian surname, on his fifth voyage in 1616 got into a real pinch and had to hightail it to an island off Greenland and make a tea to keep he and his crew alive:
Now seeing that wee had made an end of our discouery, and the yeare being too farre spent to goe for the bottonie of the bay to search for drest finnes ; therefore wee determined to goe for the coast of Groineland to see if we could get some refreshing for our men ; Master Hei'bert and two more having kept their cabins above eight days (besides our cooke, Richard Waynam, which died the day before, being the twenty-six of July), and divers more of our company so weake, that they could doe but little labour. So the winde favouring us, we came to anchor in the latitude of 65° 45′, at six a clocke in the evening, the cockin eight and twentieth day, in a place called Cockin Sound. The next day, going on shoare on a little iland, we found scuruy great abundance of the herbe called scuruie grasse, which we boyled in beere, and so dranke thereof, using it also in sallets, with sorrell and orpen, which here groweth in abundance; by meanes hereof, and the blessing of God, all our men within eight or nine days space were in perfect health, and so continued till our arrivall in England.
God is good, indeed. Beer is a bounty that is provided to us for health and joy and the lessons of history prove it. Yet, history also proves the wages of not only drunkeness but seeking out the best and brownest. Beer is neither benign or neutral but a powerful tool. That is what history teaches us. It can trace empires for us. Fortify a frontier. Collapse a region. Give hope. And bring despair.