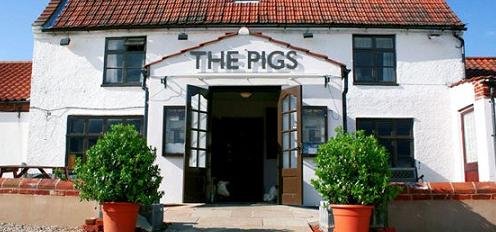 I have to admit that I am not exactly a guy with a regular pub. Frankly, when I head to the States on holiday with our pals like I will tomorrow for ten days, I am more likely to have a favorite bar I go to regularly than I would have here. But none are like the pub mentioned at the BBC today, "The Pigs" at Edgefield:
Locals at a village pub in Norfolk are beating the credit crunch by bartering home-grown produce for pints. The Pigs public house, in Edgefield, near Holt, encourages drinkers to contribute to its traditional food menu in return for free alcohol. A sign placed inside the pub reads: "If you grow, breed, shoot or steal anything that may look at home on our menu, bring it in and let's do a deal."
Who wouldn't want to go to a pub where this could happen: "someone will say 'that rabbit tasted great' and we say 'here, meet the person who shot it'." But it's not the food that particularly attracted me when I checked out the pub's website, it's the games. Sure there are quizzes, darts, billiards, dominoes and even shove ha'penny but right there to the lower left of the page so generously titled simply "drinking" it says you can play "I Spy". What better indication of a genial spirit than the invitation to spy with one's little eye something that begins with "J".