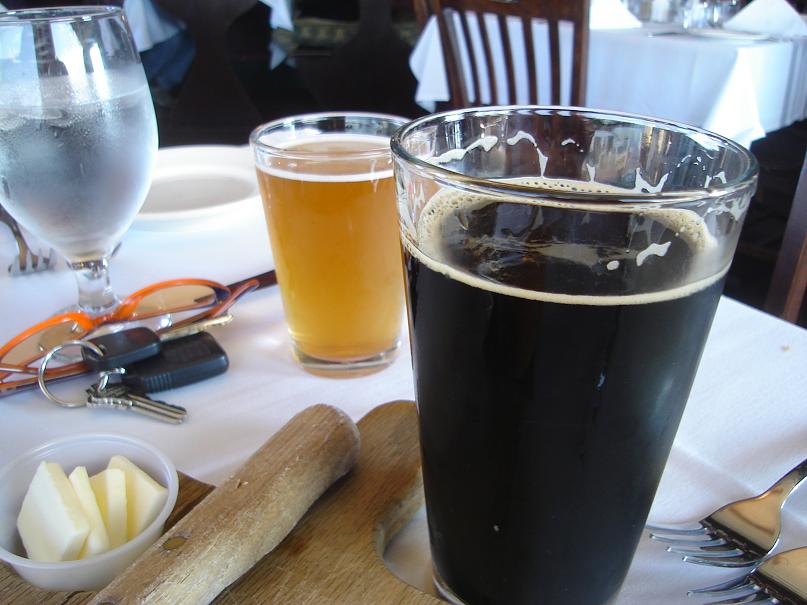 We visited the Sackets Harbor Brewing Co. in the North Country of New York State last weekend. Sitting at the eastern end of Lake Ontario in the bay that once saw one-half of the US navy located there around two hundred years ago, the brew pub is in one of the prettiest settings around for a glass of real ale. It is also one of the smallest brew pubs I have ever seen. The building set on the waterfront next to a marina is divided into a pub side and a dining side with their DME brewing equipment set up in the front with a view from the pub. There is also a patio on the marina side.
We really didn't take in the full range of the beers offered as we were in the middle of a day long Father's Day upstate road trip with two little kids in tow but that is ofter a good measure of the capability of a pub. It was kid friendly if only because of the active harbour out the window of the dining room – count the boats, kids. While that was going on, I had their stout which I was really pleased with – full of flavour with a bit of chocolate and a bit on minty hops over a clean milky yeast. We also tried a half pint of a cherry wheat which was clean and refreshing with a solid cherry flavour which leaned a bit towards cherry pie as opposed to cherry picked off the tree.
I had had lowish expectations as I had not fallen in love with the brewery's bottling of its 1812 Ale when I tried it a year and a half ago. Not only was that view of their beer dead wrong based on that sample given the two we tasted – but just the food and the view at the pub would make it a destination regardless of the beer. I will have to try their 1812 again.¹ Lew points out that Sackets Harbor has a new brew master, Andy Gersten, who previously had worked at Oswego at King Arthur's reviewed here last month. I liked his last stop, too.
Three advocatonians have visited and reported.
¹ 29 Dec. 2006: I have two left in the stash now and can confirm they are quite lovely session ambers. I will do a proper review soon.