So… I like March. For years I proclaimed March in 89 font letters on one of my old blogs. I am far more restrained now. A place between two seasons. Did you see that it snowed in Ireland and the UK this week? Farmers out east call this the Million Dollar Snow* – the late storms that drench the fields on melting. And all brewing trade social media has been suspended over there for the last few days for pictures of snow laying thinly all about, just like the story told in the carols! Must be that EU Committee on Taking Photos of Snow (EUCTPS) funding grants finally kicking in.
First, right after last Thursday's deadline, The Tand Himself** wrote about the inversion of reality that craft has become in the UK market and under their cultural version of the term's application. Years ago Boak and Bailey discussed the vague and wandering UK use of the word "craft" and it seems like it's wandered six steps further since then. While it is useless to get too caught up into it, craft now appears to mean "an expensive crap shoot enjoyed by folk many times you likely would not want to spend much time with" – or, you know, something other than what's in the glass. Who needs that? The better  approach such clinky studies with a certain humility and thank God others are playing with just, you know, honesty. We are blessed and less affected here where craft can still range from $2.80 a tall boy to whatever the market might bear. Related: discount craft discussion #1 and discount craft discussion #2. Somewhat related: odd personal product placement posing deep and abiding questions about value.
Next, I like this footage from the BBC archive of a show discussing the 1986 about the new UK craze for trend in brown bread. Which is interesting. Context about trends in food and other social patterns should be always related to trends in beer culture. Me, I was in Britain for a good chunk of 1986 and remember both the good malty ales and my uncle complaining about all the whole wheat and vegetables suddenly in his diet. Related: drive-by expertise. Unlike branding, actual history and knowledge are reasonably identifiable things.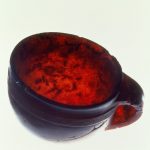 Dr Caitlin Green, lecturer at the University of Cambridge in history, has posted a series of images of ancient drinking vessels. That drinking cup carved out of amber is one of the more wonderful things I have ever seen. By further contrast, consider this discussion of the poorly traced and argued history of lambic – part of our heritage of mob craftism. Why must this be so?
Back to today, interestingly how Ben noted a change in the demeanor of UK trade reporter James Beeson who wrote about his unhealthy relationship with alcohol on Friday and then how drinking swanky craft before 3pm on Sunday made him somehow "a winner." I've often noted to myself how two classes of people seem to align their identity with drinking, alcoholics and beer writers. If you feel the first, the second is irrelevant – just as he openly explored in the thread that followed. No beer makes you a winner. It's best to be well. And I wish him well. No one needs a millstone.
Do you see a pattern up there? Proper personal insight compared to something else, perhaps second hand. Yet Jeff manages this tension with care and perhaps a bit daring in his posts on sexism. It's not his story to tell but it's the story he can tell or host. Still, even with his own discussion on the fact it is not his story – and the reality that we each are only what we are – I just wish the posts didn't have a male host as intermediary… so, I will pair this link to one from Nicci Peet who is making a documentary about women in all sectors of the trade and has even launched a Patreon campaign to support it:
If you're here you probably know I've just launched a new documentary project photographing women (cis, trans, genderqueer, woc) in the UK beer industry. There's a lot of talk and debate lately around sexism and inclusivity. Part of the problem is that there's a lack of visual representation of the diverse range of women who work in the industry. When I say women working in the industry I don't just mean brewers. If you have a passion for beer there are so many different routes into the industry. 
Both Nicci and Jeff's very much worth your time. [Related for contrasting context.] And, just so we are clear, the #1 lesson on exactly how not to do it was brought to you Wednesday afternoon by Stone's Arrogant Beavis and Butthead social media intern:
The tweets are all now deleted – but for a hour or so defiantly defended. It makes one wonder why do they stick with the junior high locker room branding at Stone? It's all about judgement of others with a passive aggression from a largely unwarranted stance. Don't get me wrong. They make mainly pretty good gas station beer that's reasonably reliable and know how to get the government grants for the branch plants. But apparently because that's how the head office rolls if the intern's tacit instructions are anything to go by. Time to move on.
*Unrelated.
**aka TTH.