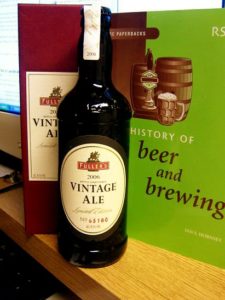 People complain. People complain that folk complain. It's quite odd given people complain all the time about the value of this or the value of that. From donuts to computers to cars to the location of your house, people question and complain every time that feeling creeps up where what was assumed to be worth it turns out to have been a bit of a bust. Given most don't get a regular supply of vintage samples (or, for that matter, quietly get paid by brewers to review and comment back on the QT as a trade consultant) but, no, actually have to live with a limited set of bank notes from which to draw upon, the question of value is always relevant. Beer isn't all that special. So, it was good to see this topic bust out over New Year's Eve: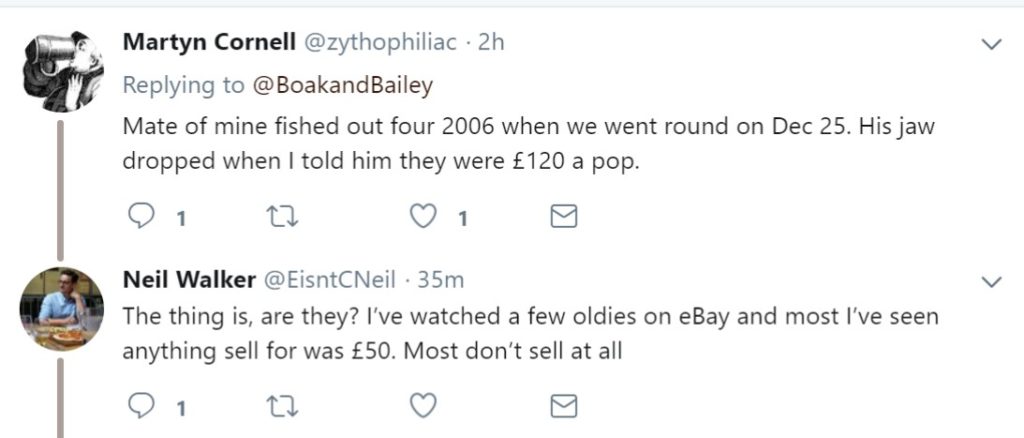 What are they talking about? Well, late model Fuller's Vintage Ales, of course. See, yesterday a few hours before that tweeting session started by Boak and Bailey (but with an image which would have destroyed my thin veneer of dramatic tension just now) I opened and started writing about a FVA dated 2008 which led me to exclaim this:
Crash the Stash Day #2: Fuller's Vintage Ale. Let me check around to see what to expect. Seriously? The brewery is selling these for £100 each? £100?!?!? Glad I spent $6.95 CND almost a decade ago.
This was only news to my conscious self as Martyn had alerted me to the fact almost a year ago when I started a post about working my way through my stash of maybe 16 or so bottles of the stuff from 2007 onward. So subconsciously, I was at least prepared. And I girded myself for the question through drinking these beers, aged and new, since at least 2005. But the reality is that at least from a theoretical point of view, even after having a pleasant enough 2008 era bottle yesterday, I have eight bottles left with an alleged value of around $750 Canadian.
I was pretty clear in my mind that the 2008 was not worth $170 CND or £100 that the brewery was asking. Don't get me wrong. It was a very good beer and I am delighted that my 45 year old self left such a treat for my 54 self to enjoy over a New Year's Eve afternoon. Don't get me wrong. It was yummy. But it had no value which corresponded to what was being asked when I look at it from a few points of view.*
On a relative value scale, were I magically able to use it as free currency $170 would get me and the family a very nice dinner out with drinks at a reasonably good restaurant here in my fair city. Or five tickets to our OHL hockey team with beers and hot dogs and maybe a t-shirt. I would have much preferred those achievable experience to my 90 minutes solo with the ale in a tulip glass. Even though it was a very nice beer in a tulip glass.
As an opportunity cost consideration, I could have left the beer capped and watched its theoretical price rise over a few more years.  By drinking it I am destroying the future increased value, racing well past actual inflation. But that depends on the future buyer being there and the beer not only holding its intrinsic value as a consumable but increasing in sheer tastiness over time. One issue was it started to feel like it was past its best at nine years. Folk would be noting this in the G.D. social media therefore ruining my prospects. How dare folk chat freely?
On beer trading marketplace, if it truly had that value I should be able to sell it back to Fullers or at least my government retailer for something expressing the wholesale current value. It's been kept in a cool dark cellar and subject to optimum protection. As usual, my claims to provenance were impeccable. If I go back through my tax records I would likely be able to find the receipt for buying it. I expect it would say I spent something like $6.95 CND. Yet… the box was gone and the label encrusted with a bit of mould. Who would want that? I couldn't sell my Captain Scarlet Dinkie toys in that condition – and I wouldn't anyway so stop asking. Any in any event, there isn't actually a buy-back program. Because there isn't actually a market for the inflation-laced price.
As for the bottle itself, it was a bit like me facing my fifty-fifth later this year. Maybe a bit past it but still performing well. Took a long time in the glass for the bitterness to face a bit to reveal the toffee and pale malt below. I noted as follows:
Plenty of pith, orange zest and minty bitter hops over toffee malt. Lingering bitter finish with a hint of licorice. Less of a cream heart than the 2007 opened a few weeks ago… I have the end of it in a tulip glass now an hour and a half in. It could easily be a very well-made well-designed fresh strong ale that I might buy for a regular price. In no way a disappointment like that sad Stone vertical.
Frankly, I enjoyed the 2007 I had a few weeks ago a bit more. So, is the idea that the brewery is selling at that value a good one or a bad one? Is this a rip off or a smart advertising campaign? One thing I like about it is how the sticker price gives me confidence that I did the right thing by sticking a few aside as I did. They are also saying, screw you white whale hunters – we control this marketplace ourselves. But that is like the silly idea of "brewer's intention" or, if we are already mocking 2017, "brewery's cartoonish can label designer intention" in that it doesn't really give me much value related to the price point being offered. The drink itself has to stand up for itself. And it did. To a degree. But not that degree.
No, in the end the price being sought now is not reasonable. But it does give me the warm conceit that I was once a clever lad. And I can drink to that. And I might just as that 2009 is up next.
*And, frankly, can you disagree with me unless you've bought one at current offered prices? Hmm?