OK, I still seem to be doing this. I did regular weekly news blog post years ago but never thought I'd find myself coming back to it. It's like 2011 again. Is it because beer news is less boring? Not really. Is it because I am a slacker? Likely. Let's see what the lazy man sees this week.
Very oddly, a Super Bowl beer and cheap snack crap pairing article a published a full month too early. It's such a useless thing it's rather sweet: "Barbecue chips give you the sauce without the meat"? Wow!
Story of 2018? More breweries are failing as more come into being. I am quite content to understand that we have moved from an era of growth to one of stasis and churn. The story of closure linked above does give concern whether we have given false hope through funding flawed dreams from the public coffers. Could it be that we, the people will be holding the bag as more come and go? Good chance that's the case.
Looking less further back, Pete gave us the best farewell to 2017 by cutting and pasting stuff accumulated through the year. Good to see that he has to note in passing the question of junkets and, let's be honest, not all that convincingly.*  A gaffaw at an annual shareholders' meeting. It remains a question needing questioning even if, in a pleasure trade like beer, no one really loses an eye. Sure sure. Is it that junkets don't matter because good beer ultimately is not that important? Could well be. Why not? And it that is the case, can we really care if the ownership of a pub chain expresses a political point of view? Who cares?
Speaking of "no one cares" news: Hanson.
Two excellent observations on beer history writing from merryn: (i) errors – I presume we are burdened by errors because, in case you didn't notice, we are writing about alcohol; (ii) The history of civilization? Because maybe we needed to gather and gorge and not kill each other.
"No more highly viscous wort" news.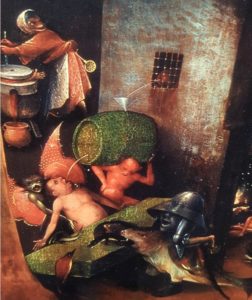 Bryan Roth has written the piece of the week, exposing in some detail the intense culture of the shit-wallowing pigs inflicting itself upon a corner of craft beer and… apparently a shadow social media world of mock piggery. Hmm. [Ed.: The Beer Nut has actually captured an image of events in progress.] Though I still am a bit unclear on the slight hesitancy to draw obvious final conclusion – I would not have written "building friendships through participation in memes and challenges for fun" so unadorned – Roth's take is at least brave if messy and frenetic especially in the tight world of US craft Caucasoid maleness. The pressure to stroke the buffer of phony "community", to toe the line imposed on self-evident observation is often sad if impressive. Backlash. For a view from another, read this: "That was a nice chat, honey. Now send Tom over. I want to actually order a beer." Now, that was pretty clear.
Best non-beer thing? The Telharmonium.
There you are. Good things and bad things. A normal week. Adjust your perspectives accordingly.
* I had also meant to praise Pete in equal measure his identification that there is no such thing as a beer expert, something I raised three years ago. Stan caught it in his blog post today. Which makes me wonder if Stan is now moving in on Thursdays. (By the way, I just realized I have the power to update Thursday bullet point news all the way though each Thursday. So good to self-publish.)