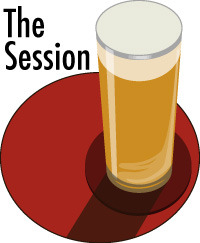 For this month's edition of The Session, host Gareth of Barrel Aged Leeds has asked us this question:
For this month's edition of the Session, the proposed subject is 'Hometown Glories'. Take this and run with it how you wish, but when thinking about possible subjects I had in mind an imminent visit to the place I spent my formative years and blogging about it's highlights and wider beer scene. 
Being a gent of a certain age, I was struck by how similar this topic was to Session #15 "How Did It All Start For You?" with a heavy dose of Session #9 "When Beer And Music Shaped My Life" added for good measure. Which is fine but there is another problem. I am not sure I have a hometown. Our family moved when I was age 7, 8 and 15 before I went away to university at 18 to a city where my parents moved to when I was 21. As an adult I have received my mail and wages in eight communities including long stretches in Poland and the Netherlands – not to mention of months long patches of slumming around the UK with friends and family half-heartedly looking for work. So what to do?
Recently I realized that there was more to the story. I was trying to make sense of the storeroom in the basement. There are boxes and boxes of my late parents' things down there and, working my way through the papers, I came upon my birth certificate. Oh. My. God. They lied to me and took it to their graves. I was horrified. Even though I spent my first years in Mississauga, turns out 55 years ago I was born next door… in Toronto. TORONTO?!?! The shame. The confusion. Yet, now I know why I love Johnny Bower so.
So, I am drinking a Pompous Ass tonight from Great Lake Brewing, Toronto's other gift to Canadian beer… you know, other than me. At $2.65 CND it's the right choice, fresh value craft from a legendary micro in its 31st year. One of the things that makes me hometown proud.