June. The middle of June. Or, as we called it as children, the miggle. I am in the middle of a "very important thing" in my "real job" so my attention has been solidly on the hobby news.  Jordan said the nicest thing the other day when I mentioned I bought a pair of p'raps 1970s casual trousers* which used to be owned by the late financial manager of the Rolling Stones:
Alan, the cool thing about you is that beer is not even in your top five strangest hobbies
So true. Except I am not cool. I have teens so I am clear on that point. Yet… beer and drinks is a hobby to me. As it should be. A sauce upon a hobby. Life's drizzled sauce upon an idle hour. No more. June. June lets you know that's true. Hours and hours of idle are waiting for you in June. You can sit out in the yard and see five species of bee in June. If you know what you are looking for. As you sip on a beer. I have books about bees. And a pair of casual trousers which used to be owned by the late financial manager of the Rolling Stones. Life is good.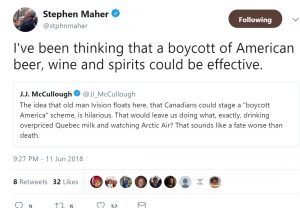 The big news around here (meaning on this planet) is how the wee Donnie T totalitarian love fest found the great big orange thing attacking Canada for acting like an actual nation state. "Boycott!" is being chanted in the streets. High school and undergrad soccer team pal o'mine, political journalist Steve Maher suggested a boycott of US drinks. It's an easy matter these days given the excellent craft beer we brew not to mention our own Ontario wines.  I've probably been boycotting for weeks without noticing. I do have a bottle of bourbon in the wee cabinet – but it gives me a wicked headache, frankly. Five months until mid-term elections. Just five months.
Anthony Bourdain's loss was deeply felt among good beer fans even though he summed up the state of craft beer with characteristically vicious wit when he coined the phrase "Mumford and Sons IPA" a couple of years ago. Let us remember that and use those words wisely with gratitude. Lesley Chesterman wrote a wonderful remembrance in the Montreal Gazette on Bourdain and her city. This set of thoughts illustrates how, for a certain set within a certain generation, Bourdain may have been as influential as Michael Jackson was for another certain set within another certain generation; the younger swapping the elder's illusive (and now known insufficient) dream of establishing a unified theory for all beer, perhaps, for the illusion of the meaningful visceral peripatetic existence.** Each offering a route to being somebody. I say illusion, which you may take as deeply unkind, but I am also deeply mindful of the thoughts shared by chef David McMillan who actually knew him and saw the corrosive effects of his addictions:
"Sure, it all looks so glamorous when you see it as a one-hour TV show. But the one hour we did in Newfoundland took 15 days to shoot. We spent countless hours sitting in cars and planes, or just waiting in a tent in the rain. And we're drinking every day — which is a constant state of the ingestion of depressants, and you can slowly get yourself into a depressive state." McMillan knows from what he speaks. He did a stint in rehab and gave up drinking five months ago. "I was going down the same road as Tony," he says. "I got to a point where I had really dark thoughts about five times a day. I used to think about it once a week, then once a day. Then five times. I decided that was enough. I was drinking like a Viking, every day of the year. I have three daughters. I wasn't being a great father. I had to change. I'm 47. I want to be around for my daughters.
Which gives one an uneasy feeling when you read: "it was seeing those same qualities in Anthony Bourdain that gave me some hope for myself." Or even seeing this.*** McMillan called Bourdain the captain of his pirate ship: "we were all the pirates … drug addicts, alcoholics, a motley crew of humanity from all quarters, especially those of us marginal kitchen workers." Which makes you wonder whether we should really care about the price of beer around the world if you have to give up so much to actually need to know. Regardless, a sad loss. But be careful out there. The hobby sauce can make you dream.
Illusion. Chris Conway, a gift from Newfoundland to Toronto now seemingly re-gifted in return, considered a can of craft-brewed Milkshake IPA as one sat on an eastern Liquor Commission shelf and saw a possible perhaps unwelcome future:
Seeing this next to the mudslides and hard lemonade at the NLC makes me wonder if the destiny for Milkshake IPA is malt based alcohol juice/puree or a gateway to beers that taste of malt, hops, yeast, or water in any way. Can Molson make a Milkshake cooler that tastes like this?
I think Chris's thought illustrates why this consideration of myth and wine (equally applicable to good beer) is hooey: "…the fact that propaganda doesn't really matter: the stories add value to the experience beyond their demonstrable truth." Consultant types might like you to believe this is true but, for me, there are enough fabulous facts about good wine and beer that we can confidently ditch the romantic tales. You have to wonder if it is the alcohol that makes the desire for myth?****
This, now, is an actual real thing. You see this in the TV sports highlights every week or so. The baby not dropped to catch the ball all while clasping the plastic cup of beer in ones teeth. The guy who chested the foul with a beer in one hand and a plastic tray of nachos in the other as he protected the young family, spilling nothing. Someone will no doubt note that she chose a darker ale. Craft lady baseball foul beer catcher. That is my nickname for her.
In your "somewhere it is 2004 now" update… hmm… a brewers' advocacy group that meets a whopping two times a year in a tiny wee jurisdiction of 135,000 or so souls smacks of nothing so much as the need to spend a government grant. The timely reporting of the group's first meeting is particularly sweet.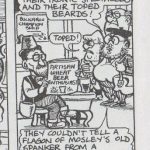 Boak and Bailey published a fabulous, extended and entirely interesting interview titled "Davey Jones, the Man Behind the Real Ale Twats" in which they explored a cartoon strip in Britain's satirical magazine Viz. Jones described how he thought up the lead character:
I've spent quite a lot of time in pubs and the characters are sort of composites of types that I encountered. There was a bloke who used to come into my local in Newcastle who had a big beard and a beret and always seemed to be carrying several shoulder bags. He may not even have been a real ale enthusiast – I don't think I ever heard him speak – but he had the right look, so I drew him. Probably very unfairly.
Probably accurately, too. Or at least characteristically… which is what you really want in a character. Did someone say character? I have a bit of that. And the trousers of the man who knew Mick's money.  Lucky lucky me.
That's it! Remember, if you find this lacking or even offensive, there is more weekly beer news to be enjoyed for the firm of the firm of Boak & Bailey each and almost every Saturday as well as my candidate for the Stan with the finest Renaissance-era Low Country last name each and less than every Monday. I might see him this fall.
Be safe. Be happy. But if you can't, be safe. Laters.
*Troooo-saaaahhhssss!!!
**Congratulations. You have navigated to the end of that sentence. My grade 8 English teacher will be receiving comment cards for the next 30 days.
***Never quite sure who plays Christ in this analogy.
****Hobby sauce! Hobby sauce!!!