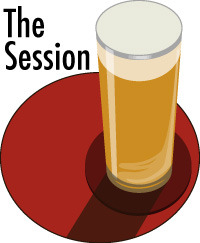 So, here we are. The end. Stan has asked for one last kick at the can and asks us to consider:
Pick a beer for the end of a life, an end of a meal, an end of a day, an end of a relationship. So happy or sad, or something between. Write about the beer. Write about the aroma, the flavor, and write about what you feel when it is gone.
Beer for an ending? What about the end of beer? Or maybe just the end of a beer. I was never fully convinced by Elton John's Saturday Night's Alright for Fighting or rather Bernie's lyrics, the wanting to rock, the wanting to get a belly full of beer:
A couple of the sound that I really like
Are the sounds of a switchblade and a motorbike
I'm a juvenile product of the working class
Whose best friend floats in the bottom of a glass…
It seemed a bit 1970s comfy rec room faux dystopian. But I remember it every time I look down at the dregs. Now often sated, even with a little relief. When I was young maybe a bit of tension. Tastes like another but wondering if I could afford a next… and a next. Goodbye to all that? To my surprise, over 15 years of this beer blogging seen many endings. The long goodbye. Endings I had not anticipated. People coming into view and then some time later departing, stage left. Switching to PR, quitting writing, quitting beer, moving along, falling apart, passing away.
A beer for all that? Clearly Orval. Simon H. Johnson's passing was over five and a half years ago now. He loved his Orval. And he had one Derby Bimble before he left. Amazingly, his blog is still all there. It's hard to describe how influential he was, how his cheery insistent popping of each and every balloon was what we, what I wanted to read. If I could find a bottle of Orval I would have it now, before morning coffee. But this is Canada so I can't just get one when I want it. Oh, sorry… this is a beer blog. There. Wonder what's at the bottom.