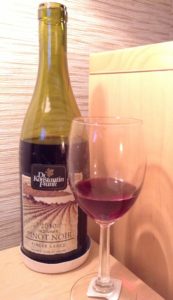 I don't always drink wine but when I do I like the good local stuff… or maybe something from the Mosel. Or maybe a nice grenache. I was thinking yesterday when I was looking at the fantastic selection of Finger Lakes wines at Triphammer Wines at the north end of Ithaca, NY that if you are going to say stuff like beer is more versatile, complex or varied than wine, well, you had better have downed a good lot of both to justify your argument. I don't believe any of it myself. Both are wonderful and awful and everything in between.
Dr. Frank is the old hand, a pioneer in growing European grapes in northeastern North America. The Finger Lakes wines are comparable to those of Ontario's Prince Edward County near where I live. They are a couple hundred km due south but the local climate is not so affected by their smaller lakes. On price point, this Pinot is just over half the retail of a Norman Hardie from PEC. It would be good to do a side by side. No need for a tasting note for this wine other than to mention balance, age worth tannin and a strong berry core.
Like the hotel decor? I am showing you the nicest bit. Unlike the wine, low cost and grinder charm is the best you might suggest. The Utica Club of places to stay.