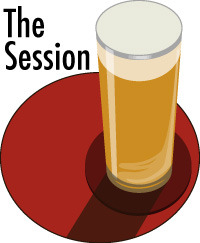 Jon Abernathy of The Brew Site (the great-grandfather of beer blogging to my great-uncle of beer blogging role) is hosting this month's version of The Session and he askes about bock. As M. Noix Biereois d'Irelande pointed out excellently today, bock-style beers aren't as common on the shelves as they were seven or eight years ago. As true in northeastern North America as it is in Ireland. Bock does not demand respect and it no longer attracts many of the inquisitive. Yet, I asked in 2009 whether Mahr's Weisse Bock was the greatest smelling beer of all time. I must have once had an interest. A year later I tweeted my admiration for Koningshoeven Bock. Indeed, as recently as just three years ago, I posted about two Canadian craft takes on bock that I had received as samples.
Yet I do not hunt them out. Well, I hunt out fewer and fewer beers as enough good beer to satisfy anyone short of a case of dipsomania comes to me care of (i) the new wave of local small scale brewers and (ii) the slump of the Canadian dollar to US dollar exchange rate. Who in their right mind would? It's fun actually, given that reality, to watch the last gasps of globalism inspiring the junketeers to still – just in this one week – witness them trundling up to the groaning buffet spreads of Asheville, New Zealand and even Peru! Oh, how I do need that report on the craft replicants of Peru. Please hurry.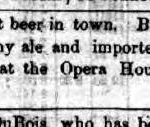 Bock, however, is not that at all. Not a flog is being offered for bock. It is fusty. Maybe even owly. Bock, however, has a venerable North American heritage. It is a traditional local beer if we are talking about the Great Lakes watershed and environs. As Craig posted on Facebook, it stood amongst the greats – if the Free Press of Waverly, New York from 1886 is to be believed. In the New York Herald of 30 April 1860 there is something of a primer on the nature of bock in a column from "Our Berlin Correspondent" which might indicate that bock came here to our shores after that date, much later than lager in the 1840s or that earlier shadowy thing, cream beer. Bock is described by OBC in slightly harrowing terms:
The stronger more heady sort is termed bock beer, from the German word bock, which means a billy goat, the person who drinks it being excited to such a pitch of exhilaration that he capers like a goat… the above mentioned bock as hitherto kept up its reputation. Recently, however, a company has been formed on shares with a handsome capital, for the avowed purpose of opposing it…. They have built a large brewery, with extensive cellars, saloons and other accommodations, on the same hill, and propose to brew a lighter and milder beer than bock., selling it at a lower price, and the mania for imbibing vast quantities of the cerevisian fluid being still on the increase, they are very likely to succeed… 
Terrifying stuff. If I can find me some on the way home I might buy a bottle if I can find one in these times of IPA driven hegemony and homogeneity. So I can, you know, imbibe a vast quantity… and caper like a goat.