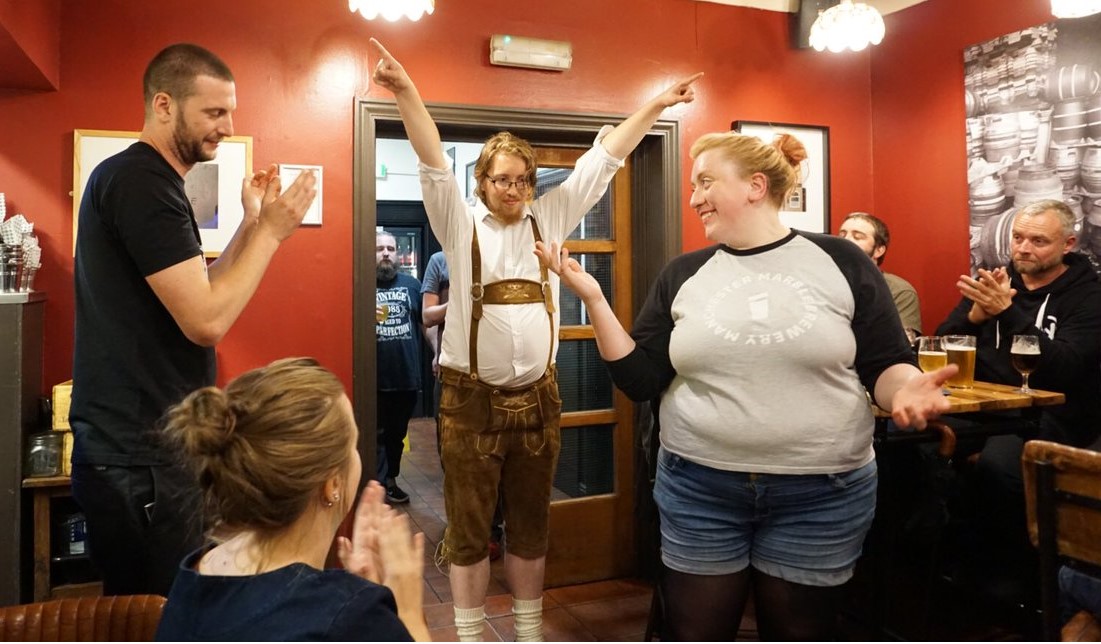 The beery discussion this past week was woven with tales of travel. Don't get me wrong. I think the whole idea of beer tourism is weird. If I travel, I save maybe 15 minutes every second day for thoughts about a beer. I like museums, beaches, shopping, seeing friends and family, wandering and napping too much to centre a trip around beer. But… that doesn't mean you need to be like me. Going elsewhere to find new spaces to roughly replicate drinking at home and roughly familiar bars is great. And, as Nate above shows in the tweet of the week, it can be something that opens the door to lederhosen-based public silliness opportunities and "the best photo of me that's ever been taken!" Which is good.
Jordan St. John went on one last Euro trip before the UK is, what, given the boot… turns its back? And he went to Brussels… which he found rather odd:
When travelling, you want to try to be positive, so putting this thought out of my head, I ambled along through bustling groups of tourists, instagramming along with them. It is in the nature of the tourist focused district to be reductive and sure enough every fourth store sold waffles and every fifth store sold chocolate. It took only a moment to realize that every sixth store sold beer and the dawning realization came upon me: "Oh, I've been rooked." I'm not referring to the quality of the beers on offer, lest you think I've come unmoored. It is the depth, complexity, and overwhelming success that the brand of "Belgian Beer" has on a uniform basis.
Me, I was in Brussels for a week staying at a pal's place in 1986 but stuck to the Jupiler and Guinness. Seemed all a bit heavy handed to me. Was told by a police officer in a long black leather trench coat to move along after the bars shut. Oh, and he had a machine gun. Still, Jordan also bought me a tie which I got in the mail and it was lovely so I thank him publicly. It says "Ind Coope Sales"! So his trip was not all for nuttin'.
Boak and Bailey have shirked their weekly new nugget obligations (again) while roaming around the land of lederhosen. I like this observation particularly:
Despite looking to British eyes like the garden of the nearby pub-restaurant, people were tucking into picnics they'd brought from home, unloading Tupperware and supermarket paper bags from rucksacks and baskets. (With typical German clarity, most of the beer gardens we visited had large signs explaining the rules pinned to trees: sure, bring your own food, but buy the drink from us, or be cast out of your community.) The garden itself also had a barbecue and a pretzel window. The chef tending the former rang a bell every time a rack of ribs was ready and seemed to be selling out, while even those who had brought their own tea were buying giant pretzels to go with it.
Travel writing needs more of this and less of the "my sponsor's business is the best" stuff. Knowing where it is OK to have a beer in public and where you can eat a sandwich without offending is vital data.
Still on the travel theme, fellow Haligonian Rebecca Pate headed north to Iceland for an Arcade Fire show – and took a mo to report, as an aside to the main feature, on the state of the Reykjavíkjavíkian* bar scene:
The recent emergence of a craft beer culture in Iceland is tied into the country's drinking history. Prohibition came into force in 1915 and effectively lasted until 1989. The original blanket ban on drinking became entwined with a sanction on beer specifically, as beer was closely associated with Denmark and the Danish way of life – it was therefore seen as unpatriotic for Icelanders to enjoy a pint. The day that the law was changed, the 1st March, is now celebrated annually as Beer Day (Bjordagur).
Perhaps most heroically of all, Lars went deep into rural Russia and undertook what might better be called "beer exploration" as opposed to beer tourism:
The village looked like any other village in Russia, really: a cluster of traditional wooden houses, neatly arranged in rows, with wide, grassy spaces (the streets) in between. The fields were ranged around the cluster of houses. We went down a couple of streets before finally we stopped in front of one of the houses that looked exactly like the others, except Marina was standing in front of it, waiting for us.
You know, every time someone writes a puff piece and calls their work a "deep dive" on social media I think to myself "that ain't no frikkin' deep dive – Lars is the deep dive." Example. Note how Marina malted her own grain: "the malts are dried in a similar trough on top of the oven. So she makes very pale rye malts." Which should be enough to put the  now well-dismissed "there was no pale malt before coke" fibbery to bed. The process is fabulously described. I want to now try this at home.
One last point on travel. Noticing a lot of people noting they are not traveling to the GABF. Is anyone still going? Why?
Not travel. I had this article about a new brewery in NH shared with me because of the headline but, as I also work in construction for a fair share of my time, this story is refreshing as it has the underlying theme of brewing beer as slowing down as opposed to adolescent manic passion. And the use of "local" rather than "independent" or other such PR claptrap is always good.
Fabulous footage of 1972 hop picking action.
And, finally, this sort of pointless picking apart of alcohol related health advice that is really verging on obsessive compulsive.  If you really prefer to die from a liver disease other than cancer, take comfort and keep pounding back the booze.
There. Another week's update done. That was all very cheery, other than for the wee fibs o'craft stuff. As per. Want more? If Stan doesn't pick it up again, if Boak and Bailey never get back from holiday you might want to check out what appears to be a German-sourced English language period update from Bier, Bars & Brauer now in its 23rd edition. Until next week , exeunt!
*No, really… it is… look it up… HA HA MADE YOU LOOK!!!