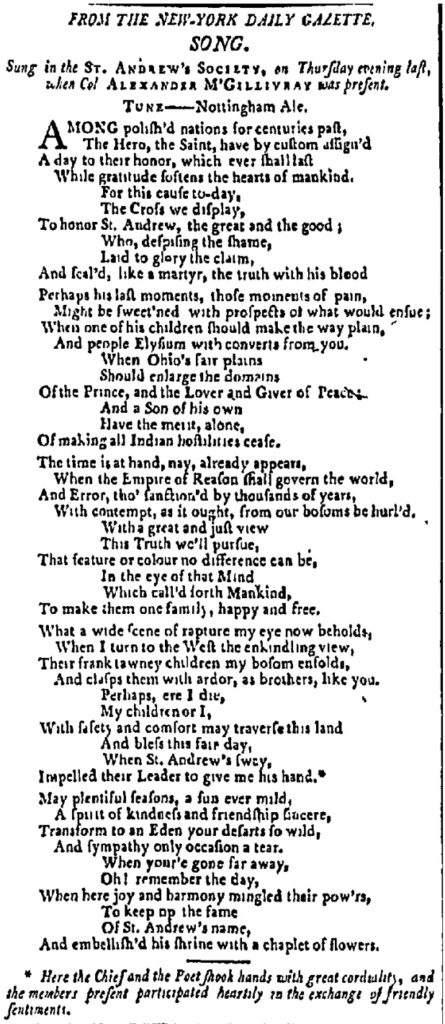 As a lad, before the internet, I was a keener for the BBC World Service. I actually visited the studios at Bush House on the Strand in 1980 on a family holiday and sat in on a Dave Lee Travis show taping. Most evenings I would listen to the shortwave and at the top of the hour before the news hear the station's identification signal, the Lillibullero. Little did I know that the short tune played right after "This is London" and before the "beep beep beep beep beep beeeeeeeeep" of the hour was taken from an English folk song called "Nottingham Ale",* the singing of which which you can hear here. 
I learned that fact searching for references to the great ales of late 1600s England in an archive of mid- and late-1700s colonial New York newspapers. I came across this lyric to the right which was to be sung to the tune of "Nottingham Ale." It was published in New York's Gazette of the United States on 18 August 1790. Which means that there was some understanding in NYC at that time of Nottingham, England having, you know, an ale. So well known, in fact, that a brewer in New York, John F. Jones, appears to have been using the name for one of his own local ales if the New York Gazette of 12 March 1803 is to be believed.
What isn't in the archive are references to Derby ale,** Hull ale or Margate ale, the coastal and carted ales of England in the 1600s. As we have seen, there are plenty of references in the NY press to other English ales not much discussed in the 1600s – ales like Taunton, Burton and Gainsborough. What is remarkable seems to be how while the pattern of naming these great ales for the cities from which they came continued, these transoceanic ales were named after a largely if not entirely a distinct class of city. Hmm.
Anyway, this short post bridges a few things that I need to unpack a bit more but most of all it should serve as encouragement for all you all to learn the words and tune of "Nottingham Ale" so that we may sing it when we meet next. Extra points for learning the version in praise of St. Andrew set out above, too.
*Amongst other antecedents.
**Need to work on a Derby post. I have found quite a lovely map from 1680…