Unbeknownst to me last Saturday night, I ate at one of the favourite spots of Ra McGuire, the lead singer from Trooper. It's information like that that doesn't change your life but might lead one to pause over one's Phanaeng Goong (spicy shrimp in basil peanut coconut sauce). [If I see him, there bending over noodle soup noisily, I will call him "Trooper Boy" – I will, I will…]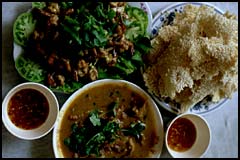 The Whig last Saturday had a great full page on Mr. Vann…or Mr. Sophat…who has started five different Cambodian restaurants in downtown Kingston – he starts one, gets it going, sells it to someone he trains for a few months and then goes on to open another. When I first moved here I asked whether there had been an immigration wave at some point, thinking it would take a fair number of families from one culture to sustain five restaurants. I got some odd looks. It was, I now learn, a one-man piece of work, creating a momentum for the stuff that helps keep the downtown thriving. Way to go. I have only attended one of his earlier shops, Cambodian Village, so far but his own kitchen Cambodiana is right around the corner.

This is the way it should work. Coming from Nova Scotia, I was used to Lunenburg Greeks, the Lebanese of 1948, the Greeks of the mid-50's, the Vietnamese of the mid-70's, the Lebanese of the late 70's, a guy in my class called Zoltan whose folks got out in '56, and the former Yugoslavs and their neighbours in the 90's – and ate their sausage, kibbe, mousakka, croissants (remember the guy at North and Agricola who was a Saigon french pastry chef?), donairs, kapusta and other stuff. In undergrad, I wouldn't trust a pizza not made by a guy who wasn't raised on the Mediterranean. I would eat their mother's home cooking, whatever it was. Food should be an entry to the immigrant experience for the non-immigrant. Eat curry and nans when you are 18 and get a little understanding of understand Mr. Khana, the grade 12 supply math teacher who posed unbelievably hard questions to keep us from being little bastards. Eat a donair from Sam Kasam and Lebanon is a little less about terrorists. Have apples and honey and listen to a friend's grandfather quiz the young rabbi into embarrassment, think about the menorah. Share a joke over Tom Yum Goong and the jokes at the expense

of others quickly sour. All in the cause of shaking up the brain and its residue of preconceptions through tasty food.
Even though I am the kid of two immigrants, I don't, however, expect to see diners based on smoked herring and haggis. Your loss. Maybe in south-east Asia there are trendy corner stalls with chip butties and Irn-Brew…and deep fried Mars bars.