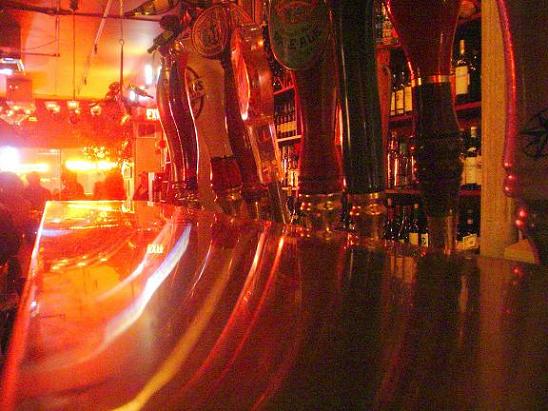 Never was a beer from Stone so appropriate…
We only stopped in Awful Al's briefly when walking between Clark's and the Blue Tusk. Two reasons. I was told to stop taking photos and it is a reminder of how great the anti-smoking laws are for the consumption of fine beers. It is, however, the dimmest lit bar I think I have ever been in and as a result the doctored photos give you the sense of the place as cross between photographer's dark room, a 1970s era Soviet submarine and a very merry upper level of Hell.
One kind correspondent, Jim of
Maltblog
, has written me:
Awful Al's is the place to go for whiskeys and bottled beers. They have a very good selection and a hip atmosphere and clientele. It's a bit of a meat market, so be warned – it can be very crowded and is filled with the yuppies that you didn't find at Clark's. But if you are looking for a dram of Balvenie PortWood or a Laphroaig, this is your place. It's also the only place I know of in Syracuse that have a waiver from the smoking ban in bars and restaurants – it's very smoky as a result.
Very smoky as the streets by dark industrial mills at midnight in 1840 were smoky. The ever excellent Lew Bryson is warmer to this particular flame to the moth in his ever informing book New York Breweries (1st ed, p. 205):
…walk over to Awful Al's Whiskey and Cigar Bar (321 South Clinton Street, 315-472-4427), across from the Suds Factory and lose yourself in contemplation of hundreds of bottles of spirits. Come back to your senses and realize there are some great taps of beer here as well, a big old humidor, and big couches and armchairs to relax in while you enjoy your smoke whiskey. This is civilization….
Look – he's right. The wall of wickedness. You know, you really ought to
buy Lew's books
if you have any interest in ales and find yourself in New York or Pennsylvania or coming soon Delaware, Virginia and Maryland. You can't be relying on us for every good opinion. Sure I am looking for a signed copy to review…but I will pay. The piper is due his wages.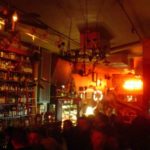 So in the end I did not have a dram or a drop in Awful Al's, driven by oxygen deficit syndrome as well as my fear of such a complete temple to appetite and someone's reasonable sensitivity to having your face on the internet. I think that I would have to get to know it better, drop the residual asthma and have a change of clothes so that I could burn the nicotine soaked ones I would be leaving in. And buy those spy camera glasses everyone is talking about. But that is just me. Every heaven is not the same heaven and you might like Lou's better than mine. I know I found mine at the Blue Tusk which I will report on anon.
It is, in reflection, interesting that Al's, Clarks, the Blue Tusk and even the hotel bar at the Marx where we stayed each suited a different definition of comfort-and-joy and God-rest-ye-merry-gentlemanliness. All distinct from the Maritime and New England taverns of benches and heavy wood tables like those of Halifax or Portland Maine's Gritty McDuff's and Three Dollar Dooies, again, despite the shared goal. Speaks to the differences in local culture as much as anything I suppose.