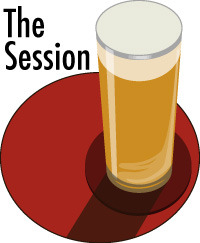 This month's edition of The Session finds us being asked by Beer Means Business to think to the future:
Over the last 10 years, numerous topics have been presented and the bloggers who discussed them expressed a rich diversity of perspectives or specific areas of interest. Therefore, I refrain from giving you further ideas or examples. There are no limits in time, space or nature either. I would like you to let your imagination free, and capture ONE thing you think we will see MORE of with an explanation of the idea.
Forecasting is a pretty tedious affair. What we will "see more of" is all a lot of folk are writing about these days. The last year has seen the rise self-appointed seers unaccountably yapping about fascinating topics like "a bubble is coming" to "there is no bubble coming." Oh… and the brewery who brought me, fed me and watered me is going to be important to you. Personally. Soon. Count on it. You know, this sort of forecasting appears to be largely a matter of explaining how what ever is happening today will continue. My favourite one is how ABInBev is, again, in peril of imminent collapse. As it dismantles big craft. Wow. We need a word for that. Beforecasting? Borecasting?
None of this sort of writing matters – but I expect to see more of it.  It's the packing styrofoam of beer writing. The filler between the interesting bits. I wish it weren't so. I wish folk would be a bit braver in putting their own ideas into the discussion. I wish publications were a bit more risk taking and independent. I wish the actual business of beer were explored like any other industry of comparable impact. There are a lot of big brains out there. Good brains. And not just moaning negs like me. Folk who can create the better next thing.
I am not holding my breath. Because I need to breathe. But I have hope. I am a hopeful person. As I move blog posts from the old blog system to this one I am reminded how much richer the discussion was from, say 2007 to 2013. So I know it can be done.