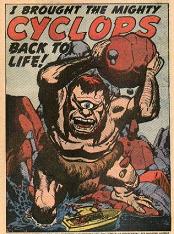 Describing taste in words is funny business but making the effort is worthwhile as it provides you with a mechanism through which you can record your experiences with food and drink, and especially craft foods like real ale. We each take in the esters, phenols and other organic elements and recreate their interconnection in our own minds as we sip, sometimes discovering what the brewer intended and sometimes finding out new nuances never expected. Then you use your words to frame your experience. Do it often enough and you develop your own descriptors that make sense for your experience.
So it is inordinately shocking, then, to learn about what may be the worst idea in the craft beer movement I have ever heard of – a standardized system of beer description not unironically called Cyclops:
Cyclops, the new scheme launched today at the Great British Beer Festival at Earls Court in London, has the backing of 14 real ale breweries. Under the scheme, the brewers have agreed to follow a standardised template on all promotional material, describing the style, smell, look and taste of their beers. Bitterness and sweetness – the two main measures used to describe real ale's characteristics – will also now be scored from one to five.
Cyclops follows a pilot scheme introduced by Leicester brewer Everards, which simplified the language used to describe real ales on promotional materials so customers knew exactly what to expect. A Campaign for Real Ale spokesman said: "Real ale is an incredibly complex drink with an enormous range of styles and tastes. Cyclops will demystify real ale so drinkers will know what a beer will look, smell and taste like before they part with their cash at the bar."
This is tragic. And it is stunning that CAMRA supports such a thing. It is important at this moment in time that the most famous Cyclops, Homer's Polyphemus, was blinded for life by drinking strong wine and ate people. This is hardly the making of a good brand. But even when he had one good eye he saw things…like he was born with one eye in the middle of his forehead – as in without particularly strong ability to see things from other perspectives. Plus, as man eating giant shepherds who get tricked a lot, they sort of fit the images of a rural rube caricature, kinda like in the satirical play by Euripides.¹
And that is sort of what the program takes the craft beer lover for in presuming to tell you how to taste – it takes you for an ignorant oaf. It will create one recommended way to look at things and a snobby attitude to those who find their own way. Reject such mecho-branding systematic standards that will homogenize response patterns and trust yourself. If you think a beer tastes like the armpit Polyphemus after a long night in the cave (if you know what I mean) while the brewer tells you something like "it is a 5 (bitter), 3 (waterhardness), 3 (maltiness), 2 (mouthfeel) and 4 (overall) pale ale" then you just trust yourself and know that is likely tastes like that armpit.
¹…which would have been funnier if, instead of saying he was called "No man" thus leading to lots of punning hi-jinks that confused the big old dope, Odysseus had actually called himself "Norman" which would have led to a lot less confusion and likely the eating of Odysseus in the first few scenes thus saving thousands of undergrads the misery of figuring the whole thing out.