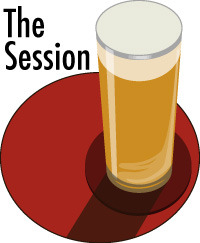 Greg had the power for today's version of The Session for August and he picked fruit beer as the topic. To be utterly fair, if you are going to pick this topic, it has to be in August when all the world is plump with the results of all that "tra-la it's May" of a few months ago.
It's not like I am a stranger to the subject. I've posted a bunch of posts about fruit beer, whether sweet lambics, syruped experimentals from the Ottawa Valley, ranges from the Low Countries to ranges largely from North America. I know I was fascinated by the date dubbel from De Regenboog, I liked Floris Honey on a hot day, I am not entirely sure about Fruli but I hated Belhaven's foul take. All in all, I think the Historic Ales of Scotland were the most interesting – including the seaweed one. And then there are my sour beer studies, trying to sort out some of the most severe confections there are.
But do I like fruit beer? I have no idea. So I am going to follow the posts today like the one from the great guys at Lost Abbey to pick up any threads or themes I see going and pop some sort of fruit beer later today.
Update From Amongst The Laundry: Heading out on holiday for a few days when you have kids starts and ends with laundry so we are a bit pinched for time here at beer blog HQ but we will suffer through with this evening with the help of a 750 ml of Kriek De Ranke, a traditional cherry lambic – qualifying this post for another entry in the sour beer studies as well as my entry for The Session. I picked this one up at Tully's in Wells, Maine for 17 bucks, best before July 2006. The beer pours a light pink candy floor fine head over cloudy red cherry ale, the head resolving to thin foam. In the nose, more fruit than tart giving me hope that there is going to be some civility in the severity. The Beer Advocate gives this background on the beer:
De Ranke Kriek emulates the famed Oud Kriekenbier from the defunct Crombé brewery in Zottegem. De Ranke Kriek is a mixture of two blended soured pale ales and Girardin lambic, all steeped in whole fresh cherries from Poland and then aged for six months.
Did I mention I love Polish cherries, having worked there for four months? They are put to good use here. In the mouth, there is dry tart acid but also a good measure of true sludgy cherry fruitiness as well that works with some cream of wheatiness. On the swirl, a light cream aspect is added from the yeast, bracing up the body as well. This is quite a genial lambic or, according to the wrapper, "Belgian sour ale fermented with cherries with lambic added", as there is plenty of the complexity – some of which is pleasant. Three others in the house for dinner tried it, did not screw up their faces yet declined another taste. That is pretty good for this style. Interestingly the paper wrapper says this brewery is a weekend working hobby for the brewery, something you might guess from their website. All 78 BAers love it.
Finally, I have a foothold in the world of dry lambics.