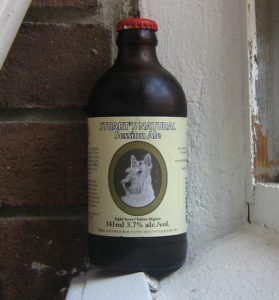 Out and about on Friday I was quite happy to see this stubby at the LCBO, a cousin to the porter, imperial stout and IPA made by the Scotch Irish branch of Heritage Brewing. I was even more happy to see that it was a 3.7% ordinary bitter for $2.20 a bottle.
It pours a bright caramel-amber with a rich off-white head that resolves to a thick rim. In the mouth, there is a bit more of a carbonation zip than I would have thought an ordinary bitter might provide but it is relatively still compared to most ales you run into. The real pleasure in the beer is the amount of raisin-nutty grainy body that is packed into such a light brew. 95% of 5% beers in Canada would be thinner than this. The bitterness is in the English rather than American style with no room for citrus or pine or any other room freshener scent. Just a sweat (and cloy) cutting black tea jag.
Entirely delightful take on a too rare style usually reserved for thoughtful home brewers these days. If this is the same beer reviewed by three beer advocates, they have missed the point.