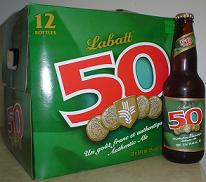 50. portland asked me to. And worst of all, this is actually a case…which I can never remember what they call in Ontario where a case is really a two-four. In Halifax, a case was 12. I don't know what I will do with the other eleven. A slice of lime won't even make it a Molrona as this is from Labatts.
50 was exotic in the early 80s Maritimes. You paid a premium under the category "western beer". Why? Twelve years ago I might have had a few quarts of 50 on Friday night at the Lockmaster in Ottawa listening to bands. Having brewed my own beer for a long time, a beer like this stands out for its cheap ingredients – rough hops, sourish yeast and that funny coated feeling on your lips brewer's sugar leaves behind. Here is one Minnesotan beer advocatonian's take:
This is pretty much a bizzarro world beer. Answers the question "What would an ale taste like if it was made by a macro brewer?" And it's just as bad as a macro lager, maybe even worse. Flavor smells grainy, musty, and only faintly of the hops that a Pale Ale should have. Barely any hops at all, tastes pretty much labatt blue. It is crap. Since only respectable brewers pretty much make PA's, against the style this is the bottom of the barrel. I feel bad that I could have gotten a 6 pack of summit, schell, flying dog, goose island, or many other far superior pale ales for the price. If ever offered one, just say "no."
Twenty years ago Harpers magazine ran an article on the Seattle micro-brewing scene which ended with the reaction of one beer lover having a mass produced beer after a number of micros. He said "did I miss my mouth?". This sets the benchmark for the low end of the Canadian pale ale scale…but you know I bet it doesn't, if you really hunted them out. I won't be bothering. I have my eye on Kawartha Lakes Pale Ale or Big Rock Traditional for the next examination of our national pale ale heritage.
I think I remember that 50 goes well as a red eye with V-8. It'll be ok.