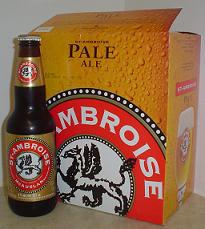 As I walk through this troubled world hunched over starting at my feet I sometimes wonder things. Things like why do the Red Ensign bloggers let me hang out when we don't believe in too much in common. Things like why golf is. Things like why can't Canada make good beer like the British and Americans do. Then I stand up straight and say out loud – "did I really think that?!?"
Through this summer's examinations of all things aley, I have realized that I am not being much of a homer. Now, to be fair, no one is as attractive as the foreign girl at the party and when you travel it is nice to try different things so it is some what natural that you might pass the familiar confines of the Beer Store and trip down to the LCBO for a daring fling now and then…and who can blame you if you drag some friends news home after shopping. No one can – but now I'm coming home because for the next while, every couple of weeks or so, I am going to buy a six-pack and test it out. And I am going to try them pale (not necessarily my first pick on a trip to the power house) and see if there are any good Canadian ales that I can call my own again. Requests for test drives will be entertained.
The first guinea pig is McAuslan's St. Ambrose Pale Ale from Quebec available at the LCBO and I think the Beer Store as well. This beer advocatonian hit the nail on the head:
Taste: Biscuity malt goodness with a nice smack of peppery/grassy hops on the finish.
When I think Canadian pale ale, I think pepper and grass thing that a certain type of our barley must add. This has it big time. Tastes like the beer your Dad drank in the 70s…no better as I think that is what I am going to say about Brick Red Cap. No big floral hoop-la over hops either, just a jaggedy bitter edge. The kind of beer that goes with a shot of rye. Grain as much as malt flavoured. Not sweet either. Both English and American pales are sweeter generally. The brewer says:
St-Ambroise Pale Ale is the brewery's flagship beer. Introduced in February 1989, it is a hoppy, amber, full-flavoured ale. In The Simon and Schuster Pocket Guide To Beer , beer critic Michael Jackson gave it three stars and described it as: "An outstanding ale… amber-red, clean and appetizing, with a very good hop character, from its bouquet to its long finish. Hoppy, fruity, and tasty all the way through."
Only available in half the Canadian provinces and apparently in Switzerland, too.