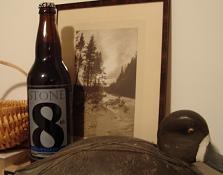 What can you say about a beer that says so much about itself. I picked this one out of the stash, $5.99 USD last time I was south. It is a one off brew made in August 2004 from Stone of a previous standard of theirs called Lee's Mild…which makes it more of a revival than a one off. At 7.8% I am wondering where I will find the mild in it but these things do happen sometimes.
Mild is generally the lightest of the dark ales – below porter, sub-dark and under brown. Big in, say, Wales circa 1910, milds are now rare. They also were a bit of an innovation when they came out as they were a break from stales or beers that had attractive sour tang to them. The idea of an actually sterile and fresh to the consumer beer was very 19th century
industrial revolution. I think the only true one I have had – other than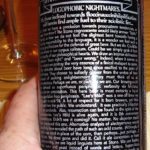 those I brewed myself – was at C'est What in Toronto last winter. The perfect session ale. But that one was only 3.3%…or 42% the strength of this one of Lee's. So what will this bottle provide when opened. The BAers give great hope. More in a moment when I get the danged thing open.
It pours a really attractive reddish mahogany with a rich and lace leaving tan head. Good and black rummy – sweetness worked through and dried. Masses of malt with notes of fig, date and pumpernickle with a good swath of green and twiggy hops cutting but not severing betwixt and between. It is just a notch below an old ale or something that might come out for Christmas but not by much. A long long finish. Another impressive big ale from one of the great US brewers.