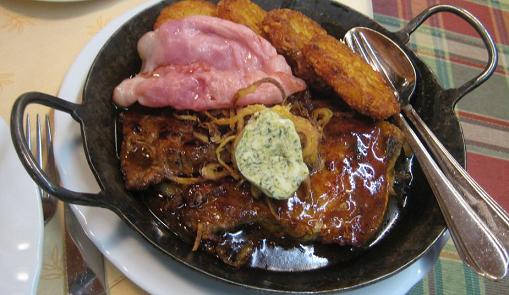 Ron's plate o' meat
Ron's Spring '08 central European road trip
with Andy has been fun to follow but
today's installment
has to be the best. In it he uncovers a local brewing tradition played out in one small German region, watches people eat a lot of meat, finds a new hop-based spirit to drink and decides to spend the night. But the traditions of brewing this one beer, Zoigl, is a little weird:
Back at our hotel, Andy has a chat with the landlord. Yes, he does have Zoigl on. Hooray! Even though the official Zoigl time ended on Sunday (it's Tuesday, if you've lost track). He has a little flyer with the Zoigl schedule for the year printed on it. They're very well organised. Each of the five brewing families in Neuhaus takes it in turns to sell Zoigl Thursday to Sunday. Like I said, it's Tuesday. Once a year (3rd of October in 2008), all five Zoigl families sell beer simultaneously. I'll mark that date in my calendar.
It's Zoigl-tastic! It's so Zoigl-tastic I suspect if this beer were called Neuhausbrau or, say, zblat or something else I would not be nearly as interested. But what really amazes me is that there isn't a TV crew following Ron around on these tours. Surely – if there is a golf channel and a world fishing network – there must be an appetite for a station that follows a group of eloquent middle aged beer hounds around rooting out the back woods beer traditions of small communities. And describing the local smoked meats that go with them. As they get snapped.
We need to put out nickels together and make this happen.