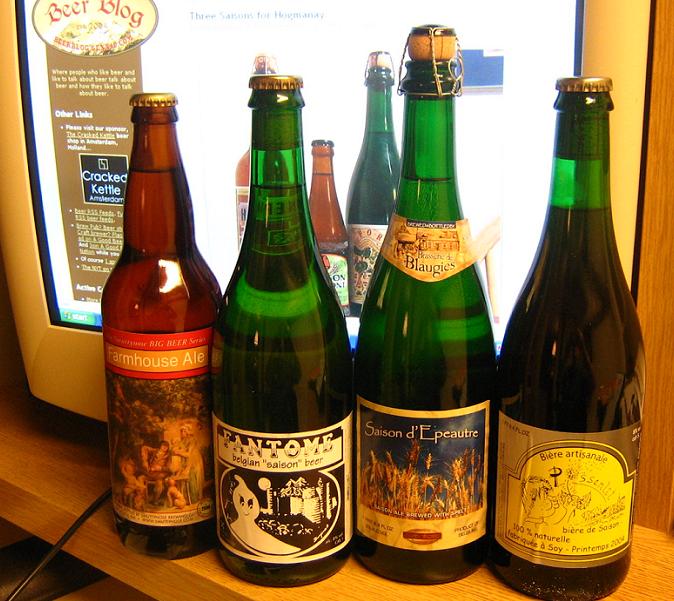 Saisons are one of best kept secrets in the world of beer. In the recent book What to Drink with What You Eat, awaiting my review, Garrett Oliver of Brooklyn Brewery names "Saison du Fond" – is that a typo of "Saison Dupont"? Yes it is – as his first beer in his fantasy desert island dozen. Early last month I reviewed a book entitled Farmhouse Ales which covers both the southern Belgian and their near neighbours the southern French saisons. In past posts, I have reviewed two Duponts and a Hennepin as well as a funkier form of the Fantome but this collection is one of the best. I am pretty sure I picked up all four at the ever excellent Finger Lake Beverage Center of Ithaca, NY and it speaks to their obvious commitment to quality. I will be particularly interested to note whether the seasonal Farmhouse Ale from Smuttynose of New Hampshire is anywhere near the quality of Ommegang of New York's Hennepin.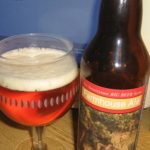 Farmhouse Ale: from Smuttynose of New Hampshire. This beer is part of the their big beer series and comes with its own brewer's notes:
Like almost every other brewer who read Phil Markowski's book "Farmhouse Ales" last year I decided that it was time for Smuttynose to try its hand at a saison…We decided that it was all about the yeast so we had White Labs send us a pitch of their saison yeast, which I believe is in the Dupont vein. Dr. White suggested that we ferment the beer without cooling and let the temperature rise to wherever it wants to go. Easier said than done, believe me.
Smuttynose is one of the great brewers these days if only for these notes that set the plan and the background out so clearly. The beer does not disappoint.Glowing orange without the usual underlying amber when I see orange in the beer. Quite still with a slight white rim and a skim of foam. It is as full of fruit as any beer I have ever had – orange, apricot and peach – all coaxed out of the malt without addition. The brewer thinks it is a little too full, too sweet and that is a fair comment but this is in no way sickly. It is more that the fruit overpowers the grain, like a record player with the balance set to far to one speaker – further attenuation would help restore the equilibrium. The fullness has a thick glyceral quality and while there is a spice quality harkening of cumin is it more like the roughness of rye than anything you would have in a Christmas pud. Again, the plan for next year's version might resolve this. So bigger than Hennepin but well within the ballpark yet respectful of the show of finesse that is Ommegang's product. All BAers support the cause.
Saison d'Epeautre: from the Brasserie de Blaugies, makers of the fig lambic I tried last June. 2004 marked on the cork. The beer pours a light straw with a white foamy head. On the nose, there is light melony tell-tale saison-ness. The taste is very dry and the body is lighter than I am used to for a saison. Grain huskiness with notes of cantelope, sultana raising and white pepper. Some cream in the dryness but not much. The dry is not an astringent hop-based dry. At the swirl, more milkiness and more white pepper spice. All the BAers like this 6% take on the style. The brewery says this:The german wheat is an unrefined yeast which contains a natural flavour enhancer, giving a good taste to the bread but also to the beer.I don't think that really makes any sense. Oh, for the lack of decent translation!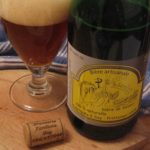 Pissenlit: from Fantome of Soy, Belgium. Spring 2004. Once I realized this was dandelion beer I checked out some reviews and wondered what I was in for. Not to worry – at least for me. The beer poured an amber ale under tan frothy foam and rim.
The core flavour is a little hard to put your finger on but it is both familiar and welcome: rich sweetness but biscuity; fresh apple, orange and fresh squeezed lime juices; a bit of white pepper and twigginess; and that tone which must be the dandelion – maybe I am thinking of sorrel in the spring when I go down onto the lawn to eat something growing. It is a mild greenness. The end is a mild bitter with a little huskiness moving into richish cider. Much more attractive to me than other brew reviewers suggest so perhaps beware. This may just particularly suit my tastes. On the swirl, there is cream but much more softly bitter green. At the end of the dregs it is almost like light drinkable cheese.
A beer that reminds me of a white lirac wine I once had whose only accompaniment I could think of was fresh leaf lettuce. This is more robust but in the same range. A beer or a waldorf salad with apples, walnuts and celery. Maybe Thai food, too. BAers see the challenge yet take it on with only 2% saying no despite its thoughtful unconventionality. A beer that makes me wonder if Fantome is the best brewer in the world.
Fantome Saison: also from Fantome of Soy, Belgium. Funnily, I did not like this quite as much as the Pissenlit but I still liked it a lot. Very active amber ale with a creamy white head. In the mouth pear and grape juice with white pepper, biscuit and a drying astringency across the tongue. Chalky notes under the herbal hoppiness not unlike Orval in a lavenderish sort of way. Well hidden strength at 8%. On the swirl, the astringency calms though the white pepper remains. Many BAers ask good questions but still rank it highly. A discomforting beer perhaps but still very attractive.
What a great hobby I have. I could consider saisons all day most every day. It is a real shame that so few craft brewers in North American have taken on the style with two major Belgian-style brewers in the north-east Unibrou and Allagash even ignoring it.