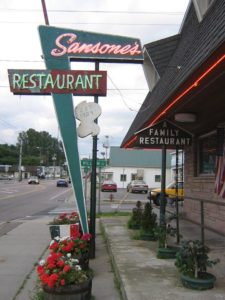 Sometimes a place is a good place not because it is surprising, rare or new but because it represents a sort of joint well. For my money, the Lucky Inn in Pembroke was a classic Canadian-Chinese buffet. Similarly, Pizza Rodini of the Truro of my youth was the best greasy circle of za.
This is how Sansones struck me. The food was mild "New York diner Italian with attached bar", the service was good and the price was fair. The scalloped edged plates and saucers were classic. The inside of the place is a little dark but busy like a antique store filled in large part of Sansone related stuff – but also Adirondacks outdoorsy stuff – which kept the kids occupied as did a number of large fish tanks.
Should you go? Will you be in Malone, NY sometime?